Things to Do in Forsyth County GA this Weekend: July 25th – 27th, 2014
The weekend is here!  The other thing that's here is that funny time when half of us are super sad summer is almost over and the other half of us are really excited!  Either way, there's just TWO weekends left to enjoy.
As always, we're highlighting our round-up of things to do in Forsyth County and Cumming GA. But a few things first that I don't want you to miss out on from this week:
And since school isn't here yet, don't miss out on these activities that won't be around long …
And as always, don't forget the easiest way to know about things to do, places to go & small businesses to support in Cumming GA & Forsyth County is to be subscribed to our daily newsletter.
FRIDAY:
Farmer's Market at Vickery Village
Family Movie Picnic at Post Road Library
Brookwood Farmer's Market (back at Brookwood Elementary School beginning this week)
Puppetpalooza Events at the Library
Oklahoma at the Cumming Playhouse
And more!
SATURDAY:
Details on the below can be found on our Calendar of Events page
SUNDAY:
Details on the below can be found on our Calendar of Events page:
Coupons & Deals:
Kids Eat Free:
Don't forget to check out our Kids Eat Free Listing for the Weekend too!
 Don't Miss these Summer Posts: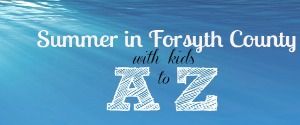 Back to School in Forsyth County:

Don't miss these important posts …
No matter what you do this weekend, we hope you enjoy it & have a safe one!