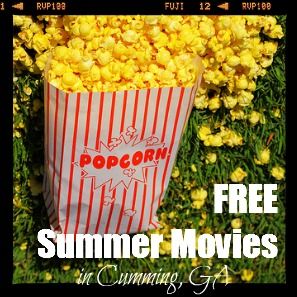 FREE 2014 Summer Movies for Kids at Carmike Cinemas Movies 400
It's that time again – FREE Summer Movies for Kids!  We just received an email from Carmike Cinemas Movies 400 with the FREE 2014 Summer Movies for Kids round-up – woohoo!  This includes the Movies 400 location in Cumming GA & Forsyth County!
From Carmike Cinemas / Movies 400:
Join Carmike Cinemas / Movies 400 June 2nd through August 7th, 2014 for FREE movies.
Shows start at 10 a.m. – doors open at 9am.  First come, First serve. Seating is limited.

All movies rated PG or G (Titles Subject to Change – below schedule for Movies 400 as of 4/13/14)
June 3 & 5: Epic
June 10 & 12: The Croods
June 17 & 19: Turbo
June 24 & 26: Despicable Me
July 1 & July 3: Despicable Me 2
July 8 & 10: Nut Job
July 15 & 17: Lego
July 22 & 24: Rio
July 29 & 31: Mr. Peabody
August 5 & 7: Rio 2D
Bring a can good for the food drive and receive a kid-size popcorn & drink for only $2.  Donations need to be CANS ONLY with a visible expiration date.  If they cannot tell what the expiration date is or the can good is expired – it will not be accepted.   A kids tray with popcorn, drink, and candy will also be available for $4 as well.  (subject to change)

*Movie titles shown are subject to change without notice. Expired cans, glass containers, or boxed food will not be accepted. Please exchange canned food and school supplies for a coupon at entrance.

*Note:  Every year there is a little bit of confusion as some Carmike Cinemas operate their Summer Series differently.  I received an official email from Carmike pertaining to the national schedule and the Movies 400 fees.  At this time, Movies 400 will be offering free movies with the $4 kids tray purchase for concessions.  That is subject to change.  Other national Carmike Cinemas may charge $4 which includes admission and kid tray from concessions.  Click here for more information about the Carmike Summer Series 
More About Carmike / Movies 400:
415 Atlanta Road
Cumming, GA 30040
Phone – 678.947.4473
678.947.4473
Looking for more FREE Family Movies?
While you're here, check out this listing for FREE Outdoor Summer Movies in Cumming GA & Forsyth County.