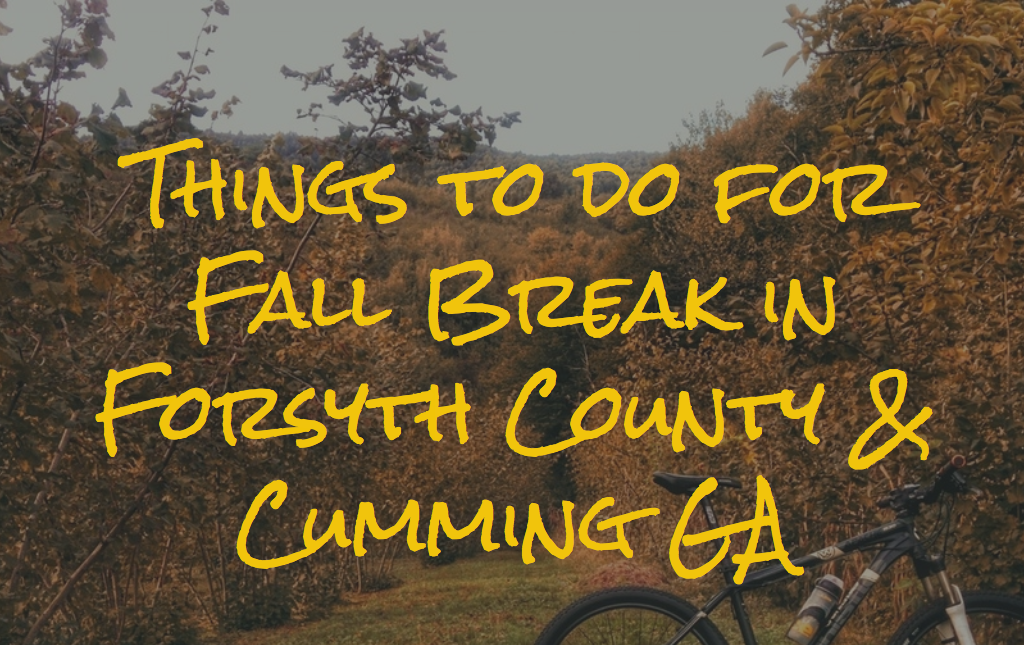 I've been thinking about what to do for Fall Break in Forsyth County this week since I know it's around the corner. If you are going on a trip out of town, good for you! I hope you have a great time. Maybe you are doing a little staycation. If so – just know there are plenty of things to do right here in Forsyth County that week.
Here's a round-up of the Things To Do for Fall Break in Forsyth County & Cumming GA:
Send The Kids To Camp: I've been keeping an eye out for any Fall Break camps. Here's a list of the ones in Forsyth County I've seen so far: Parks & Recreation, Day Camps at Pinot's Palette, Young Chef Academy of Cumming. If I hear of any more camps I'll be sure to add them in here.  
Check Out All The Forsyth County Library events: The Forsyth County libraries have planned out a week full of fall break activities. You can see all the Fall Break programs, by clicking here.
Unlimited Play at Stars and Strikes: Take the family for a fun day at Stars and Strikes from 9/30-10/4. For $16.99 a person, you can bowl and play laser tag unlimited plus a $5 bonus game card. Click here for all the details.
Go On A Parent & Child Date: Use the extra time this week to take your child on a date night. We have put together plenty of options for you to pull from. Click here for all the ideas.
Play At the Park 2018: This is a FAMILY FUN event at Fowler Park that everyone loves! On September 28th from 11am to 4pm, there will be kid activities, food trucks, live entertainment, and so much more! Click here for all the details.
Visit One Of Our Forsyth County Parks: We have so many great parks and playgrounds in Forsyth County. Since the weather is looking promising for Fall Break, checking out a park you've never been to or going to an old favorite is the perfect activity for Fall break. Click here for our listing of Parks and Recreation.
Spend Time At Any Of the Indoor Venues: Forsyth County is home to some fun indoor locations as well. We have a round-up of where to do indoors and still have some family fun! Click here for more information.
"Fall Break" Adventures: Take an idea from our Summer Adventures or Summer Fun from A to Z. Either of those articles have some fun ideas that could be done during Fall Break.
Take A Short Trip to Chattanooga: We went to Chattanooga over the summer for a day trip. It's a short drive and so much to do there. We especially loved the Tennessee Aquarium and the Creative Discovery Museum.
Go Visit The Buford Corn Maze: Fall is in the air this week! Why not visit the Buford Corn Maze for some fun together as a family? Click here to read all about them.
Take An Idea From This Teenager Round-Up: Christina wrote an article about what to do this Fall with your teenager in North GA. There are some great ideas on there of things to do! Click here to read more.
Whatever you do this Fall Break, we hope you enjoy the time with friends and family!
For even more ideas, see our School Break Survival Guide!