Creative Discovery Museum
We decided to take a road trip this past Saturday and take the short drive to Chattanooga, TN for the day. We visited the Tennessee Aquarium and the Creative Discovery Museum. We also ate at Waffle House for breakfast, Lupi's for dinner, and dessert at Clumpie's Ice Cream Company. To read about our experience at the Tennessee Aquarium, click here.
We arrived at the Creative Discovery Museum around 1:45pm. It was about a 5 minute walk from the Tennessee Aquarium. Once we got there, we checked in and headed into the museum. The first part is all kinds of water play. They do have aprons the kids can put on to keep from getting soaked. And above you is an amazing playground that the kids can climb into.
After that section you go into the museum and get ready to have your senses awakened! I told Greg that I was totally overstimulated. HAHA! But seriously, there was so much to do. We took it one section at a time which was hard for the kids because they wanted to bounce around. But we wrangled them in. There are basically 3 big sections downstairs – Art, Music, and Engineering. Then upstairs is split up into – a Traveling Exhibit (it was Sid the Science Guy when we were there), Culinary, and a Rooftop playground. You can see the building layout by clicking here.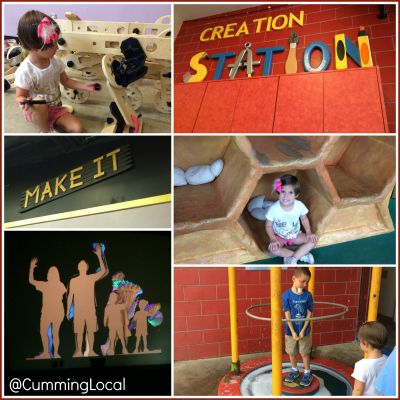 There are some many things we loved about this museum. It really does live up to the name. It is a place where kids can be creative and discover so much! I asked the family what their favorite things were about the museum and here is what they said:
The Playgound & Water Area: This was Finn's favorite part of the museum. We played for over an hour in this section. They have some benches so we sit down and watched the kids run and discover!
Kid Centered and Directed: This was mine and Greg's favorite part of the museum. The environment allows the kids to really use their critical thinking and problem solving skills in every section they experience.
The Culinary Corner: This was Selah's favorites favorite part of the museum. She could have played in this section the whole time and been perfectly content! It was a HUGE play kitchen with tons of great food to play with.
Overall, we spent the whole afternoon at the Creative Discovery Museum. We were there from 1:45pm til 4:30ish. And the time went by super fast. I felt that an afternoon was the perfect amount of time to spend at the museum. After we left, we walked over to a local pizza place for dinner. What a great day!
Last but not least – here's a few tips for your visit:
#1 – They do not allow outside food and drinks in the Creative Discovery Museum. If you think you will need to have something, then you will want to bring money to purchase from their cafe. Click here to take a look at the menu. 
#2 – Wear comfortable shoes! We walked over 13,000 steps during our day in Chattanooga. We were so glad we all had tennis shoes on 🙂
#3 – Hold the playground for the end of your time there. Seriously, once they go up it will take forever to get them down. For us, we made them wait til the end. Then we said we had to go to eat dinner. They were hungry so they came right away.
#4 – Sit back and see the excitement in your kids eyes. It was amazing to experience everything through them!
Ticket Pricing:
$13.95 per person (if you show your Tennessee Aquarium ticket stub you can get a discounted price of $11.95)
For more information on tickets, click here.
Here is an online coupon to save $1 per ticket!
Learn more about Creative Discovery Museum:
The General Admission visitor to the Museum is offered a variety of programs including art lessons, science demonstrations, story times, as well as "spur of the moment" activities. The art lessons change monthly and offer parents and children the opportunity to engage in a fun educational lesson offered by trained instructors.
Connect online with Creative Discovery Museum:
Website | Facebook | Twitter
Disclosure: We were provided 4 tickets for the Creative Discovery Museum. However, all of the opinions are 100% my own.