Tennessee Aquarium
We decided to take a road trip this Saturday and take the short drive to Chattanooga, TN for the day. We visited the Tennessee Aquarium and the Creative Discovery Museum. We also ate at Waffle House for breakfast, Lupi's for dinner, and dessert at Clumpie's Ice Cream Company. To read about our experience at the Creative Discovery Museum, click here.
We arrived at the Tennessee Aquarium around 10:30am. They open at 10am. There was a line to get tickets but it was moving along nicely. Because it was a holiday weekend, it was a little more crowded than normal. However, the way that the Tennessee Aquarium is built makes even a large crowd not seem like a large crowd. There are two buildings – one for the River Journey and one for the Ocean Journey. We decided go to the River Journey first. It took us around an hour and 45 minutes to go through all the exhibits. We stopped outside at a patio area and had some snacks. Then continued on to the Ocean Journey. The Ocean Journey took us closer to 2 hours to go through. The reason is the touch tanks and the butterfly garden. We spent more time at those exhibits.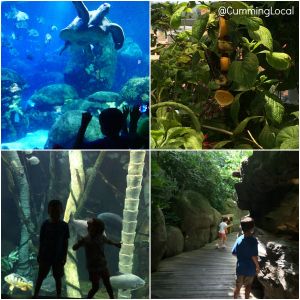 All four of us agreed that this is the best aquarium we've been too. There are many reasons why we came to this conclusion. But the top reasons why were the following:
Great Flow of Traffic: Even though it was a full aquarium, it never felt that way. The main tanks in both buildings have multiple viewing points which allows you to keep moving through.
Touch Tanks: The touch tanks here are so great. Kids learn best by using all of their senses. Feeling the skin of a sting ray swim by is just really amazing. It allowed us to teach them so much more about how animals are made.
The Staff: Literally every person we came in contact with was so friendly and helpful. You can tell they really love that they do. That makes any experience better!
Last but Not Least – A Few Tips:
#1 – Bring drinks and snacks for yourself and your family. Heck, you could even pack a lunch. We ate a big breakfast so we just snacked our way through lunch. Right outside the Ocean building, they have a covered patio by the water. It was a great place to sit and snack while talking about what we liked best.
#2 – Wear comfortable shoes! We walked over 13,000 steps while in Chattanooga. I was glad we all had tennis shoes on 🙂
#3 – Bring swimsuits (or have them wear swimsuits under their clothes) and water shoes for the kids. Outside of the Aquarium, there are tons of places where the kids can play in man-made creeks. We didn't bring stuff for the kids and I wish I would have!
#4 – Budget for the parking expenses. We spent $8 to park all day at the parking garage right in between the Tennessee Aquarium and the Creative Discovery Museum. You can also park on the street if you'd rather do that. We just choose to park in the middle and walk everywhere.
Ticket Pricing:
$29.95 Adults / $18.95 Children
For more ticketing information, click here.
Learn more about the Tennessee Aquarium: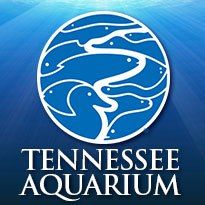 Within our two buildings, you'll trace the path of water from the mountains to the sea. Come face-to-face with the fascinating native animals that live in our backyards and the amazing creatures that thrive in some of the most remote locations on Earth.

Connect with Tennessee Aquarium online: Website | Facebook | Twitter
Disclosure: We were provided 4 tickets for the Tennessee Aquarium. However, all of the opinions are 100% my own.