6 Reasons To Experience Glamping This Year
Every summer we try to do a few activities or trips that we consider to be an adventure. In summers past, we have been to Chattanooga, Great Wolf Lodge, Putt-Putt Golf in Helen &  many others. This summer one of our adventures was glamping with The Georgia Glamping Company. Let me ask you a question – What do you know about the popular term – "glamping?"
"Glamping is a portmanteau of glamour and camping and describes a style of camping with amenities and, in some cases, resort-style services not usually associated with "traditional" camping." {Via Wikipedia}
I'm so thrilled to be introducing you to the FABULOUS Georgia Glamping Company. They are a locally owned and operated small business right here in North Georgia. I met the owners several months ago and it's such a joy to have the privilege to work with them. You may be asking yourself "Why do I want to experience glamping?" Well, I have 6 reasons for you to ponder on!
Our 6 Reasons To Experience Glamping
#1 – Very Little Effort Required


If you have ever done traditional camping then you know exactly what I'm talking about. Think about how long it takes to pack for a camping trip then unpack at the campsite then set up just to eventually tear down then repack only to head home and yes unpack the car. Oh my, I'm sweating just thinking about it. With Georgia Glamping Company, everything is set up for you. You simply pack clothes, food, and any other essentials you may need. When you arrive at the campsite, everything is ready for you! On our glamping trip, we were very impressed with the attention to detail. When we arrived – the diffuser was diffusing, the hanging lights were on and ready, and the a/c was running.
#2 – Treasured Memories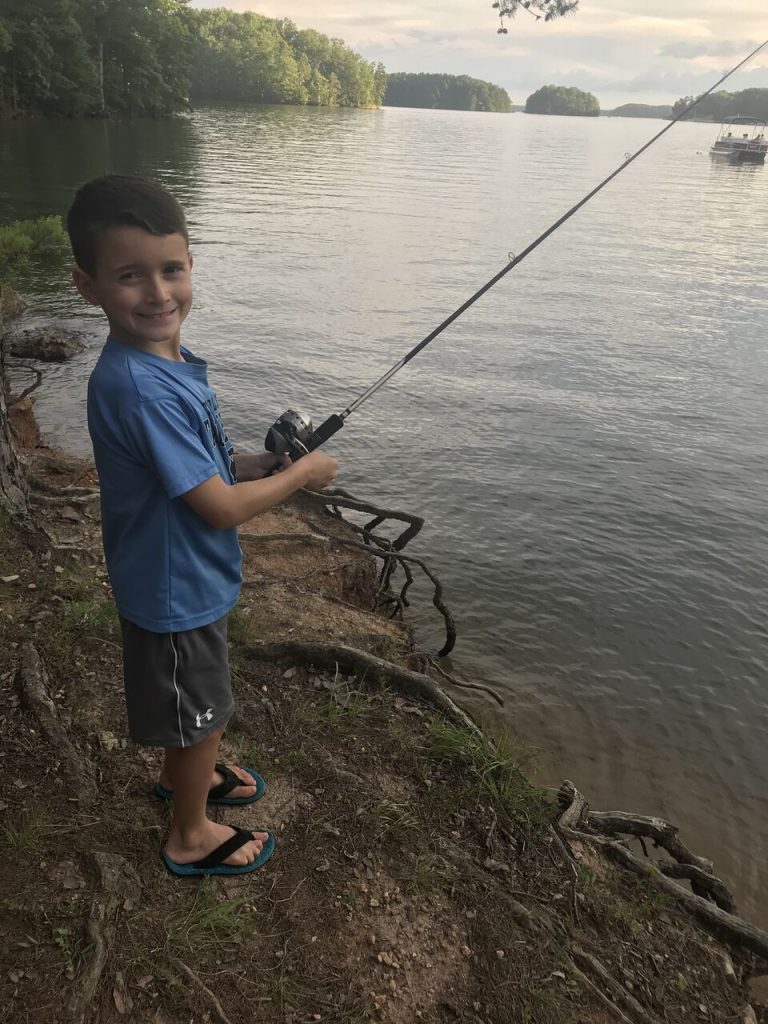 "We live in a wonderful world that is full of beauty, charm, and adventure. There is no end to the adventures that we can have if only we seek them with our eyes open."
Kid's need to explore the great outdoors more often! That's why camping is such a fantastic experience. There isn't a tv or technology to play with. It's simply family-time and the great outdoors, which is full of adventure. During our glamping, my kids loved being explorers in the woods. Their time was spent fishing from the bank of Lake Lanier, scavenger hunting, catching fireflies, roasting marshmallows, and much more! The nice thing about glamping is that you can use up every minute of your time to make memories because you don't have to unpack, set up, or tear down. We made plenty of memories I will treasure on our glamping trip.
#3 – Comfort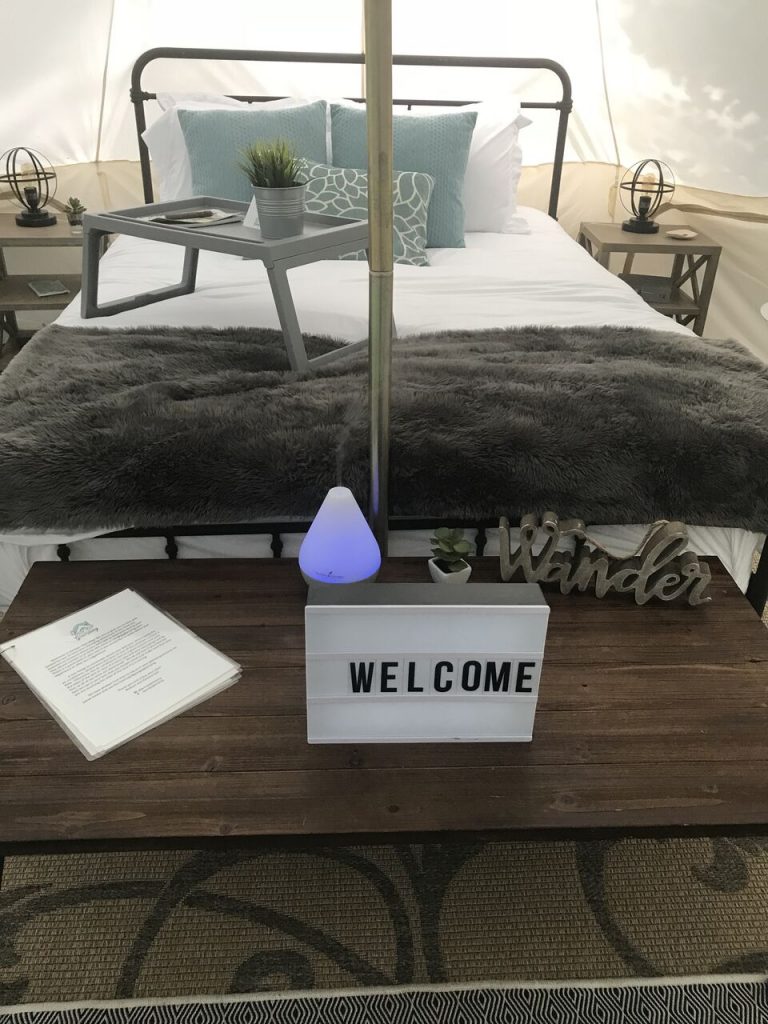 I'll be honest and transparent with you – I'm not a camper. I don't like bugs. I don't like being hot. I don't enjoy roughing it. I'm not a lover of sleeping on the ground. When I found out that glamping includes an a/c or heating unit, a queen bed off the ground, and a fridge – I was totally sold! The Keurig coffee maker was icing on the cake for me! Truth be told, we glamped in the summer heat of July in Georgia. We did still deal with bugs and we were hot when we first went to sleep. However, we all got cold before morning. Isn't that amazing!? We can hardly wait to glamp in the early fall season.
#4 – The Food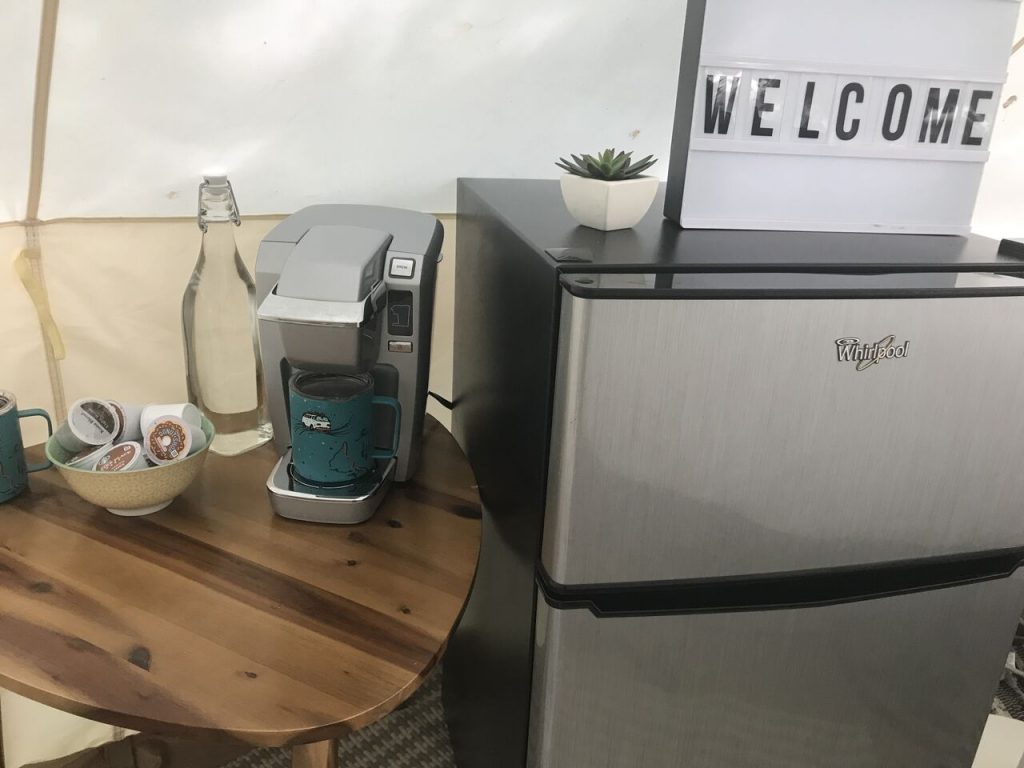 Seems crazy that food would be a reason to go glamping. But let me be clear – I do love some camping food. Everything tastes better cooked over a fire or charcoal. Hot dogs, hamburgers, scrambled eggs, sausage, roasted marshmallows…is anyone else getting hungry!? We packed supplies to have hamburgers and hot dogs for dinner, s'mores for dessert, and sausage and pancakes for breakfast.
#5 – Save Money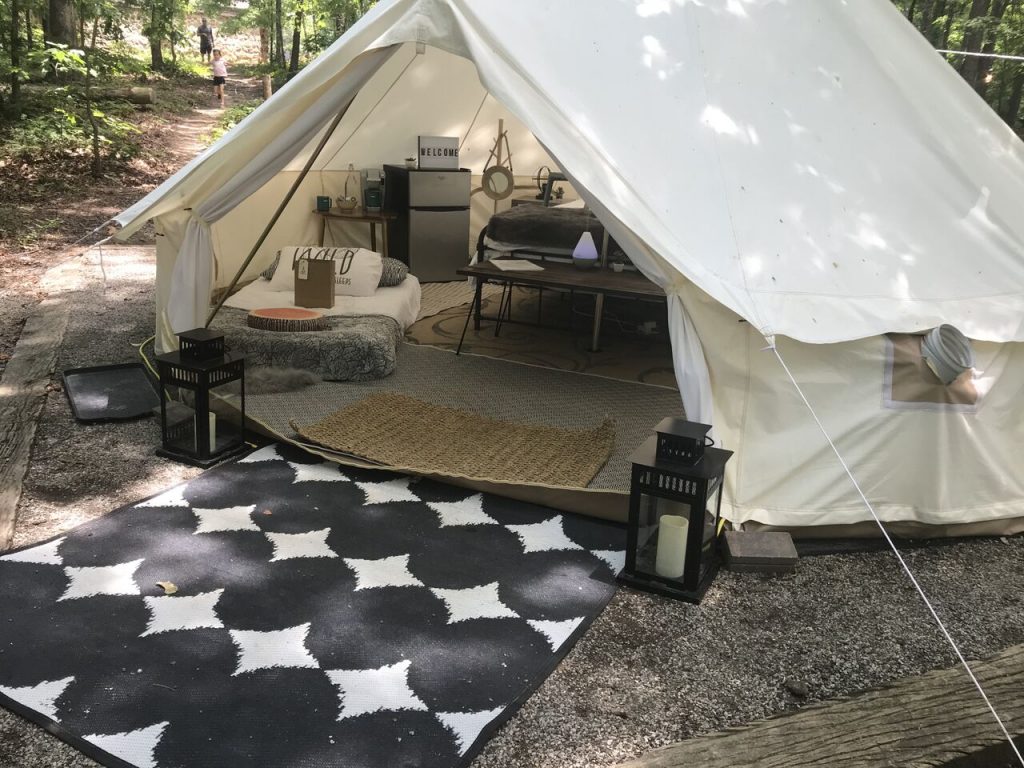 If you aren't an avid camper, glamping allows you an opportunity to save money. Let me tell you how I put this together. In order to have all the supplies for camping – you would need a tent, sleeping bags, flashlights and much more. When you add in the cost to rent a campsite, you are getting into the hundreds of dollars. If you don't go more than 4-5 times that year then you haven't paid for the supplies. For example, we would probably only camp 1-2 times a year. Therefore it makes sense for us to just do glamping. In the end, we saved money because we haven't purchased all the supplies needed to set up a good campsite. I know that we could rough it and spend way less, but remember what I said earlier – I'm not a roughing it kinda girl.
#6 -Relaxation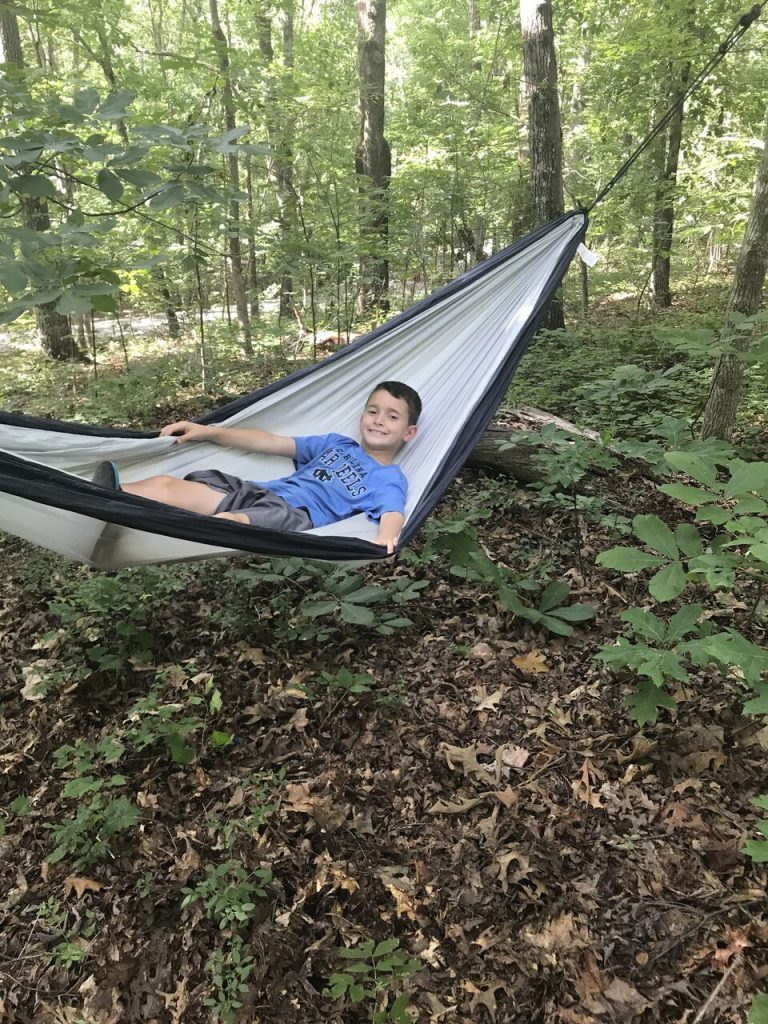 Georgia Glamping Company provides 2 hammocks for your campsite. Do I need to save anything more after that fact? All four of us (yes, even the kids) loved relaxing in the hammocks. It was so nice to lay there in the shade, swing from side to side, and watch the beautiful sun peeking through the trees. It was a gorgeous view.
A Few Tips For Your Glamping Experience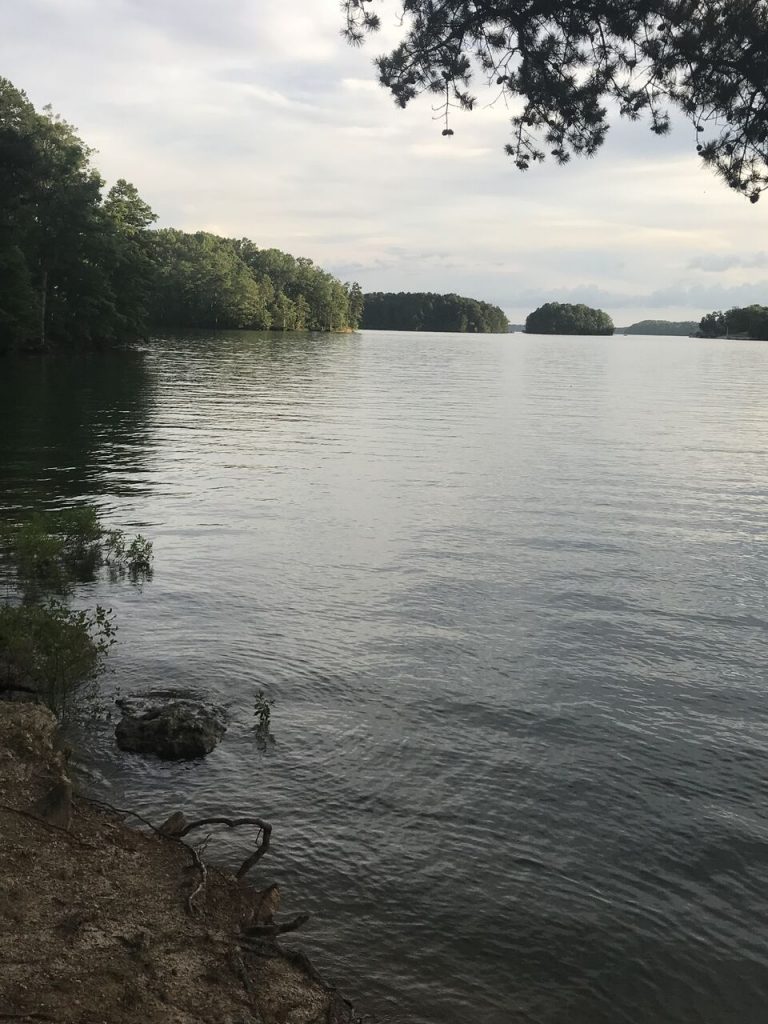 If you will be glamping by Lake Lanier, you will want to pack swimsuits, kayaks, and/or fishing equipment.
Three things we forgot, that I think would have been helpful, are aluminum foil, platters for food to come off the grill, and hand soap to wash our hands. There is running water at the campsite.
Pack some games to bring along. We brought cards and Trouble to play just in case of rain. However, we didn't end up playing anything except a scavenger hunt through the woods.
Bring flip-flops for everyone. Those were nice to have when you were hanging around the campsite. It also made it easier to take your shoes off and put them on quickly when going in/out of the tent.
Water. Pack lots of water. I packed a dozen water bottles, which I thought would be enough. But, it wasn't. We ran out just after breakfast. It was fine for us because we headed home. I would have liked to have a few extra bottles. Better to pack too much than not enough.
Depending on where your campsite is you might want to bring headlamps to walk to the bathroom. We used a good ole flashlight but I do think the headlamp would have been fun for the kids.
Tick spray is very handy in Georgia! We used a combination of Doterra eucalyptus, lemongrass, and TerraShield mixed with water. If you are in need of these oils, let me know and I'd be happy to help you.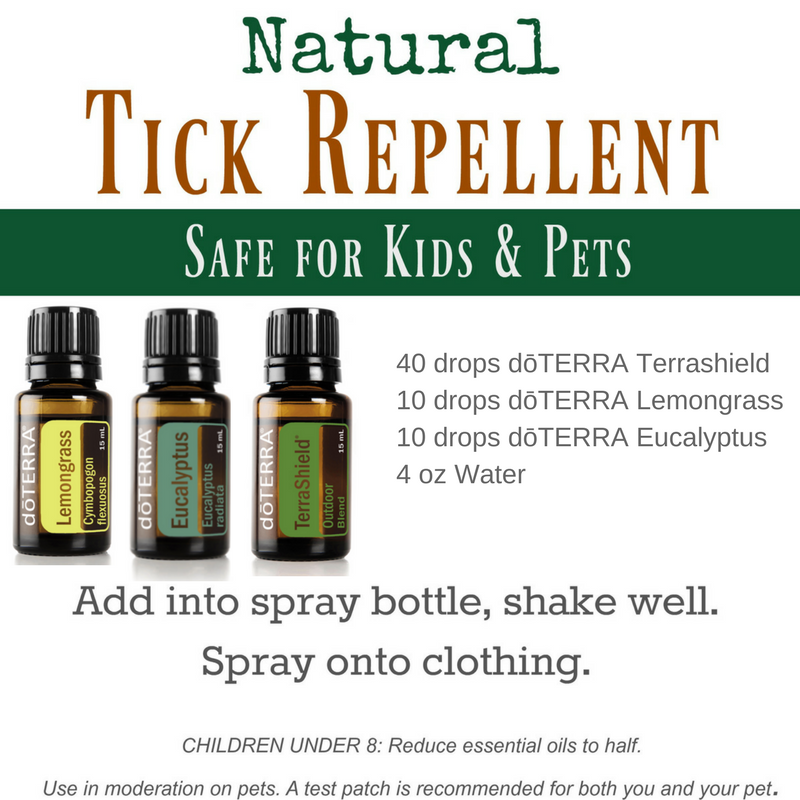 Reserving Your Glamping Experience
Are you ready to reserve your glamping experience for your family or even a date weekend? Currently, Georgia Glamping Company is reserving at the following campgrounds: Shady Grove, Shoal Creek, Unicoi, and Vogel. Their pricing starts at $129 per night and goes up from there. For more information and to look for a date, follow this link to their website. 
You can also email them directly at info@gaglamping.com.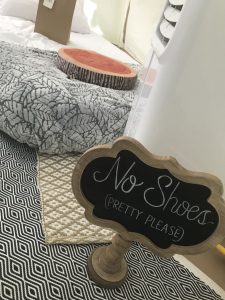 Happy Glamping!
---
Georgia Glamping Company was an idea that we had while driving back from spending a long weekend at the beach, in a hotel with noisy neighbors. We talked about the idea of getting the family out of the fancy hotels, away from their technology and have them experience the outdoors much like we did when we were kids. We dreamed of unique, one-of-a-kind getaways where people can explore on their own terms.
We believe that luxury and comfort should not be sacrificed while enjoying the great outdoors. So we decided to venture out and open Georgia Glamping Company.
Connect with Georgia Glamping Company Online: Website | Facebook | Instagram
The heavens declare the glory of God; the skies proclaim the work of his hands. Psalms 19:1