Great Wolf Lodge Concord NC
We just got home from a wonderful 2 night, 3 day vacation at Great Wolf Lodge in Concord, NC. Now we had been before exactly 2 years ago. However, Selah has just turned 2 and Finn was almost 5 years old. So we spent most of our time in the toddler area that year.
This year was very different since Selah is 4 years old and Finn is almost 7 years old. We also met up with my family there (my parents, my brother and sister in law, and my new nephew!) Finn was tall enough to ride all the slides except one. It was so fun riding and experiencing the slides with him. Selah could play in the big kid area and loved it! Next year she will be tall enough to do the big slides.
We noticed some new things this year that were really fun. They added cabanas that could be rented out by the day. It was a nice perk. You get a dedicated server, 10 soft drinks, a deck of cards, and a private tent. Since we had an almost 3 month old, the private cabana was totally worth it. It also included an overhead fan, flat screen, cooler, tables and chairs. They also added a ropes course and a 12 hole putt putt golf course. We didn't do the ropes course but we did play a game of putt putt.
The Howl in One golf course was great! The course was very well maintained. We all had a good time. Even my 4 year old had fun. The holes weren't too difficult but they weren't easy either. There is an additional cost to play. We paid $5 per person to play the 12 holes. I felt that was worth it. The scenery was nice and the weather was perfect. Most of the course was shaded when we played.
Here are some pictures of the new golf course: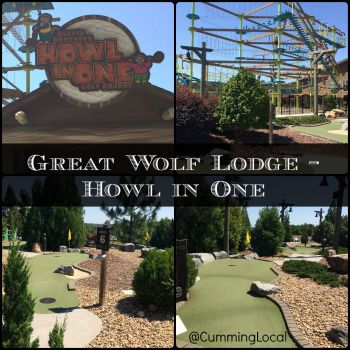 We loved that Great Wolf Lodge added some more activities in house. It was nice to have other activities outside of the water park that are still in the resort. We can't wait to go back next year!
More information about Great Wolf Lodge in Concord NC:


Our 84-degree indoor water park offers the best in weatherproof North Carolina family resort fun with 11 water slides, 4 pools, and one massive water-loaded tree house with a 1,000 gallon tipping bucket!
Experience jaw-dropping thrill rides like the Howlin' Tornado along with zero-depth-playgrounds including Cub Paw Pool for smaller kids. Swim and splash the day away here. Water Park Hours: 10 a.m. to 8 p.m.
Connect with Great Wolf Lodge online: