Pirate's Cove Helen GA 
Adventure Golf
We thought it would be fun to take a short drive to Helen from Forsyth County. We headed to Helen right from church around 10:15am on a Sunday. It only took us about an hour to get there. Once we got into town, there was a bit of traffic but it wasn't too bad. We decided to park at the center of the Helen in the public parking area. It was $5 to park there and we felt it was worth it.
Once parked we decided to walk around a bit. Helen is such a fun place. Next time we go, we will bring our swimsuits and do the tubing. *Just a little tip, the tubing was very crowded that afternoon. So if you go, it's best to tube early.
After walking around and checking out some stores, we headed over to Bigg Daddy's Restaurant & Tavern for lunch. We walked about a half a mile to get there. Then we ate a big ole lunch and walked a few blocks over to Pirate's Cove to play adventure golf.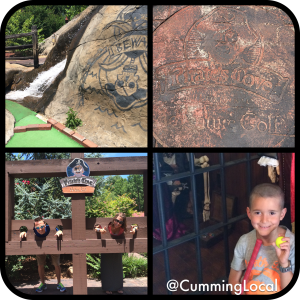 My kids loved the entrance with all the Pirate themed stuff. After picking out our golf balls and clubs we moved to the first of 18 holes. Each hole had a different course. They were definitely the most family friendly course we've played so far this summer. And there was plenty of stuff for the kids to look at while they were waiting their turn.
Here's a sneak peek at a few of the holes we played….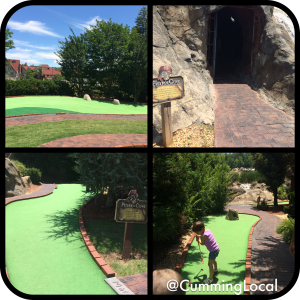 It took us about an hour and a half to play all 18 holes. Keep in mind that my kids are 4 and almost 7 so we are pretty slow moving. It was pretty hot the day we played and there isn't much shade. *Here's another tip, make sure to apply sunscreen and bring water to stay hydrated.
Last but not least, the best part about this course is that at the end you get to pick out some ice cream. That was definitely a treat after playing in the heat for an hour and a half.
We hope you will decide to go play adventure golf at Pirate's Cove in Helen, GA. Make sure to tell them you heard about them on Cumming Local!
More about Pirate's Cove Helen, GA: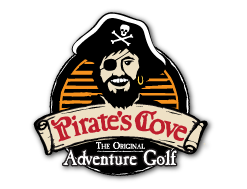 Pirate's Cove offers an unequaled miniature golf experience! The adventures and legends of infamous pirates come to life in our award-winning theme park settings. Putt your way through caves, over footbridges, and under cascading waterfalls, all amidst a fun-filled atmosphere of natural wonders, extraordinary landscaping, and enchanting pirate lore. Less than a block from downtown, we are located across from the famous Oktoberfest Festhalle at the corner of Edelweiss and Munich. Our 18-hole course will challenge the entire family, young and old. The course is barrier-free so wheelchairs and strollers are always welcome.
Ticket Pricing: Adults $8.50 | Children* $7.50
*Children: Age 4 to 12 (ages 3 and under play free)
Connect with Pirate's Cove online:
Facebook | Website
Address: Pirate's Cove Adventure Golf – 1081 Edelweiss Strasse, Helen GA 30545
Phone: (706) 892-1205
Disclosure: My family and I were given a round of adventure golf from Pirate's Cove. However, all of my opinions are 100% my own.