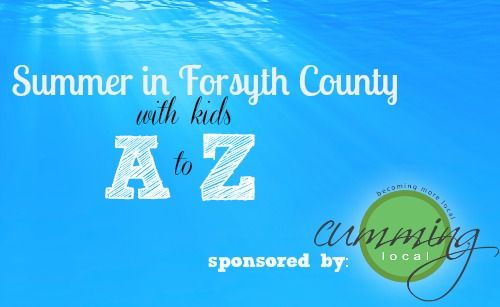 Who's ready for some Summer Fun in Forsyth County?  We've made a Round-up of Summer Fun in Forsyth County for Kids … from A to Z.  Maybe you'll enjoy all of them, maybe you'll pick a few here and there, no matter what you do we hope it gives you some ideas for Summer Fun with the kids in Cumming GA and throughout Forsyth County!
Here's to SUMMER …
A Park Tour – My kids love going on park tours – we'll hit 3-4 parks & playgrounds in Forsyth County and go from park to park, it makes for a fun afternoon!
Bowling – Take in a game or two at Stars & Strikes.  Definitely make sure you sign up for Kids Bowl Free – a must for our family in the summer!
Cool off at the Aquatic Center – The Cumming Aquatic Center is the place to be!
Dance Productions – Our friends at Cumming Dance Academy put on a great show each year, plus they run some great Summer Camps too.
Enjoy a Story – Barnes & Noble and the Forsyth County Public Library offer some great story times throughout the summer.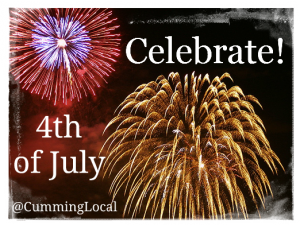 Fourth of July Festivities – The City of Cumming is the place to be!  From the parade to the fireworks, it's a fun, two-day event for the whole family.  Other fun events take place throughout town too!
Go Ice Skating – The Ice offers open skate through the summer – a great way to cool off on a hot day.
Hike – Even on a hot day, a hike of Sawnee Mountain provides a lot of shade and a great, fun workout.  And if you're lucky, you might even see some of the Fairy Trail.
Indoor Playground – Did you know you can visit Superior Play just to play?  Open play is available every Wednesday & Friday at their Alpharetta (Forsyth County) super store.  Great way to play but out of the Atlanta heat.
Jump & Bounce – Another great way to escape the heat – Catch Air and Monkey Joe's offer a lot of fun the kids.
Kid's Workshop – During the summer, Kid's Workshops continue at both Home Depot (first Saturday of each month) & Lowe's (2nd & 4th Saturdays of each month).  It's a great way to spend a Saturday morning.
Library Summer Showcase – The Forsyth County Public Library always has a jam packed schedule of fun with their Summer Showcase series – magicians, puppet shows & more!
Movies for Cheap and FREE – The Summer Movies at Movies 400 line up is out – and it's good!  Plus don't forget you can catch free showings through the Forsyth County Public Library too.
Nature Preserves – The Sawnee Mountain Preserve provides scenic trails and an interactive Visitor Center.  It's a pretty and peaceful place to visit and learn more about nature around us.  Plus it's free!
Outdoor Movies – Vickery Village will be the place to be this year.  It's a great line-up of some really great outdoor movies for the whole family.
Painting, Crafts & More – So many options for crafty kids – Passport to Imagination at Michael's, pop in activities and special events at Glazed & Fired, Artistic Adventure and new to the scene, Giggle B Studio for Kids.
Quarter Midget Racing – The Cumming Fairgrounds has a line-up of racing throughout the summer.  Check out the racing schedule and get more information here.
Rolling Skating – Let's Roll Skate 'n Fun Center is the place to strap on your skates!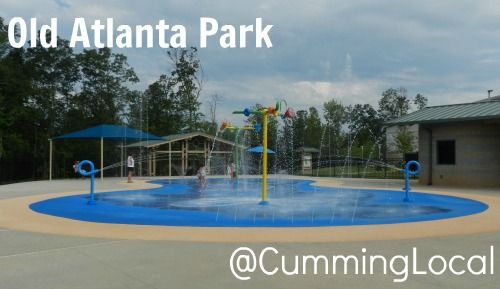 Splash Pad – Definitely be sure to check out the splash pad at Old Atlanta Park, and check out our Old Atlanta Park Splash Pad tips here.
Thursday Night Concerts– Be sure to check out the 2015 line-up for Concerts at the Collection.  Live music & kid activities bi-weekly throughout June & July
U-pick Berries – Fresh strawberries and blueberries during the summer!  Warbington Farms offers u-pick strawberries (now open) and Blueberry Garden offers u-pick blueberries (not open at time of publish) – it's seasonal, so when they're open don't wait to long!
Vacation Bible School – There are lots of great VBS Programs in Cumming & Forsyth County.  If you haven't signed up your little ones yet, don't worry – I'm sure you'll find one to get signed up with.
Water Fun in Nature – Mary Alice Park & The Rock Slide at Poole's Mill Park all offer a variety of water fun! Enjoy nature, the wonder lake water and sandy beach at Mary Alice and the rock slides at Poole's Mill.
X-tra X-tra Read All About It – Fun events & activities will continue to pop up throughout the summer.  Make sure you subscribe to the Cumming Local newsletter and also LIKE Cumming Local on Facebook and Follow Cumming Local on Twitter so you can stay in the loop.  Trust us … your kids will thank you:).
You didn't sign the kids up for summer camps?  There's still time.  Check out our list of 2015 Summer Camps in Forsyth County here.
Zip Lining or the Zoo Nearby – So a technicality, both of these may be outside of Forsyth County but Z is hard! Both the North Georgia Zoo & Petting Farm and Zip Lining at Lake Lanier are quick drives from Cumming and provide a fun afternoon!  (Zip Lining is on my wish list!!)
So that's OUR list from A to Z … no matter what YOU choose, we hope you & your family have a safe and fun 2015 Summer in Forsyth County!