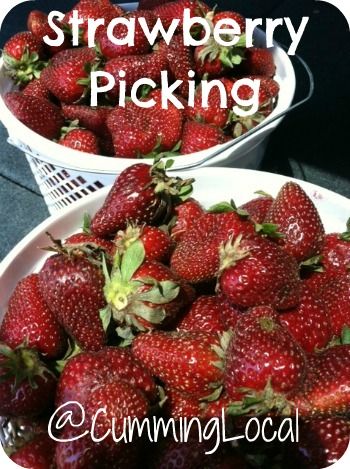 Strawberry Picking in Forsyth County at Warbington Farms 2015
Oh boy!  It's strawberry picking time in Forsyth County!  And lucky for us – Warbington Farms is ready for picking!!  I absolutely LOVE fresh strawberries so this time of year always makes me happy.
Warbington Farms is a U-Pick farm. If you're on a time crunch or just don't feel like picking your own, you can also purchase previously picked strawberries (when available) for an extra surcharge.
While you're there, let the kids take advantage of some Farm Fun including hay rides, inflatable slide & petting zoo.  Activities and fees vary depending on the day.
Personal Tips:
1. It's never a bad idea to call ahead or check their Facebook page to make sure they still have plenty to u-pick … especially if you're driving from a big distance.  Farming isn't an exact science after all!
2. Check out their other farm produce while you're there – In the past, I have snagged some farm-raised eggs for a great price!
3.  Buy a lot – they freeze great!
4.  And then be ready for all those strawberries!  You might want some new recipes, check out our "Berry Recipe" Board on Pinterest for a few ideas.
More Information:
2015 Season
Now Open for picking!
Hours are currently being posted on Facebook each week.  Be sure to visit their Facebook Page for the most up to date information.
PRICING:
FUN PARK:
Open same hours as strawberry picking.
Fun Park includes hayride, corn-crib, petting zoo, slides, tire yard, playground & unlimited fun)
Fun Park Admission Weekends:  $8 12yrs and under, $5 13 & up
Fun Park Admission Weekdays:  $3 12yrs & under, $5 13 & up *no hayride during week
Snag a Fun Park Coupon HERE
Warbington Farms
5555 Crow Road
Cumming, GA 30041
Phone: 770.380.2920
Warbington Farms Online | Warbington Farms on Facebook
 
Note:  To reiterate, it's always a good idea to check with Warbington Farms (on facebook or by phone) for the latest updates.  Strawberries may be unavailable for u-pick if supply is low.