Parks in Forsyth County –
Ducktown Park, Coal Mountain Park, Sawnee Mountain Park
There are some great parks in Forsyth County with lots of great playgrounds to enjoy too.
Last week I took the kids (and myself) on an adventure through some Forsyth County Parks – starting our Park Tour on the 75 Days of Summer Guide.  It was rather spontaneous because I was waiting on close to perfect weather & for the month of June it was cooler than normal (and without rain), so I figured that was as close as we would get!
I decided to map out a total of four parks.  We hit two before lunch then came home for a quick bite & to re-fill our water bottles & snack supplies before heading out to two more parks.  We threw in a climb up Sawnee Mountain and a visit to that playground too.  And we ended with ice-cream at Chick-fil-a.  Overall, it was a great day!  And we tried some new-to-us parks along the way!
If you want to make your own Park Tour, click here for a listing and description of the major Forsyth County Parks.  Then plug away into Mapquest & get your plan!
Below, we're sharing pictures & also a small pro/con list of each park.  Of course the pro & cons are from my perspective (Mandi) and in my opinion only.  Your list may look different!
Ducktown Park
5895 Heardsville Road
Cumming, GA 30028

Features: Picnic Pavilion, Fitness Playground, Outdoor (Sand) Volleyball Court, Horse Shoe Pits, Open Grass Fields, Rubber Surface Walking / Running Path
Pro: Great Walking / Running Track around Playground, Bathrooms & Covered Picnic Pavilion Convenient to Playground, Sand Pit
Con: Zero Shade, Sand Pit
Sawnee Mountain Park
3995 Watson Road
Cumming, GA 30040

UPDATE:  Sawnee Mountain Park received a renovation Fall 2014.  The above playground still exists; however a new portion was also added next to it.  Click here and here for updated pictures.
Features: 8 Youth Baseball / Softball Fields, 1 Senior Baseball Field, 1 Football Field, 1 Soccer Field, Outdoor Basketball Courts, 4 Tennis Courts, Playground, Walking Trail, Picnic Pavilion, Community Building with Kitchen
Pro: Fenced in Playground
Con: Picnic Tables are not covered (although there are some a short walk away).  Restrooms are not super convenient to the playground.  Zero Shade.
Coal Mountain Park
3560 Settingdown Road
Cumming, GA 30028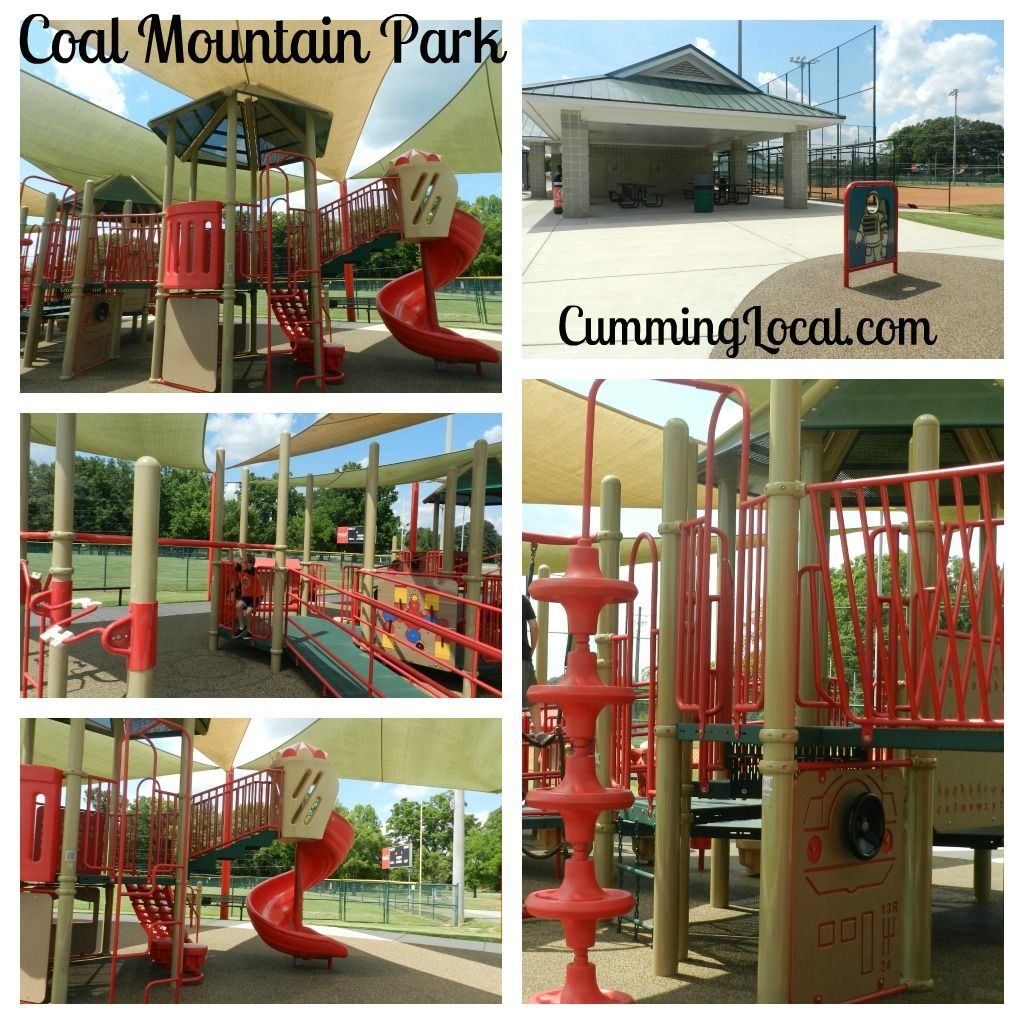 Features: 8 Youth Baseball / Softball Fields, 1 Soccer Field, 2 Tennis Courts, 2 Playgrounds, Walking Trail, Picnic Pavilion & Community Building
Pro:  SHADE!  Covered Picnic Pavilion & Restrooms are super convenient to the playground.
Con:  We couldn't find any!
Tips to Making a Park Tour Work:
1.  Pack a good cooler – preferably small enough it's easy to get in & out of the car each time, but large enough to hold everyone's water & at least one snack for each park.
2.  At each park, take time to sit & relax at the picnic tables and refuel a little with your water & snacks.
3.  Tell the kids in advance how many parks you're going to.  And make sure they know this means you're not going to stay at each park very long but you'll be going to lots of fun parks instead.
4.  Make sure you have a little first aid bag with you – more than one park, most likely means more than one boo-boo.
5.  If your little ones still nap, it's super easy to plan your trip around that.  Mine didn't nap, but we came home in between our tour, ate lunch, cooled off, and chilled out for about 45 minutes to an hour.  The kids ate great because they knew we were headed out the door again!
6.  Enjoy the fun!
For more fun ideas in Forsyth County, check out our 75 Days of Summer Guide.