A Morning Hike …

About two weeks ago, our family took advantage of the gorgeous weather (and pre-pollen days) to visit Sawnee Mountain in Forsyth County. If you haven't been before, it's a great spot for just about everyone.  There are over 3 miles of trails available for walkers, runners and hikers.   On any given day, you'll see visitors there for different reasons – from "serious" runners, casual climbers, & group outings.  The great thing about hiking Sawnee Mountain is that you can make it whatever kind of activity you want.  I've never made a mad dash up & down the mountain like many do but it's certainly an option.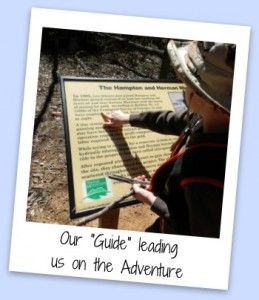 My family tends to stretch it out a little more.  We typically pack a picnic and go on an "adventure" as our kids like to call it.  The kids typically tend to be guides leading us through the woods in hopes of making it to the top.  We'll stop at the various signs along the trail and let the oldest read some of the history.  The three year old will usually end up on Dad's shoulders for half of the hike, but normally we can make it up & down without too much whining!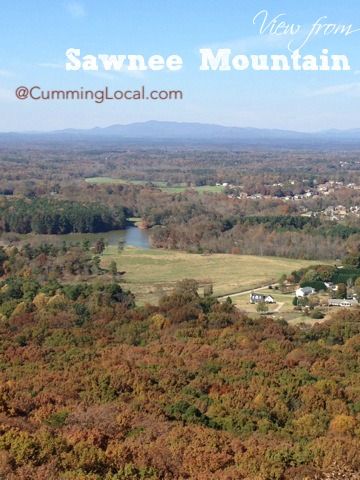 And speaking of making it to the top … the views are definitely worth it!  The views are always beautiful but Fall (pictured above) is absolutely gorgeous!!  And it's fun to just hang out for a while.  Whether you're just taking in the fresh air & beautiful views or you're answering 120 questions from a very curious 6 and 3 year old (about anything & everything – related or completely unrelated), it's gorgeous to just take it all in & snap a few pictures.


After hiking back down, we'll usually grab our picnic from the car & take advantage of the great covered Pavilions to enjoy our lunch.  It really is a nice park & facility.  Restrooms are convenient & usually fairly clean.  There's a very simple (yet nice) playground young kids can enjoy and overall it's just a really nice place to enjoy a great day!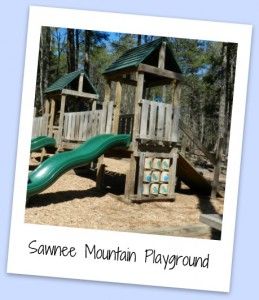 Extra Tips:
If you're wondering – my family usually stretches it to about a 2-3 hour trip.  That includes hiking up/down, hanging out at the top, our picnic and a little playground time too.  But you can definitely climb the mountain and be on your way a lot quicker if you wanted.   I definitely suggest comfortable sneakers for the kids because the trails are full of tree stumps, rocks, etc. and someone usually trips at least a couple of times (and sometimes me!).  Most of the trails are shaded pretty good so it doesn't get too hot, but my kids still usually like some water when they get to the top so we normally carry a little book bag w/ water, camera & bandaids are a good idea too!  No pets are allowed, so unfortunately you'll have to leave them at home.
More About Sawnee Mountain Preserve:
Visitor Center and Parking
4075 Spot Rd
Cumming, GA 30040

Tribble Gap Parking
2500 Bettis-Tribble Gap Rd
Cumming, GA 30040
Visitor Center Hours:
Monday – Saturday, 8:30 a.m. – 5 p.m.
Hours are subject to change.
Trail and Parking Gate Hours:
Everyday 8 a.m. – Dark
Click here to visit Sawnee Mountain Preserve Online