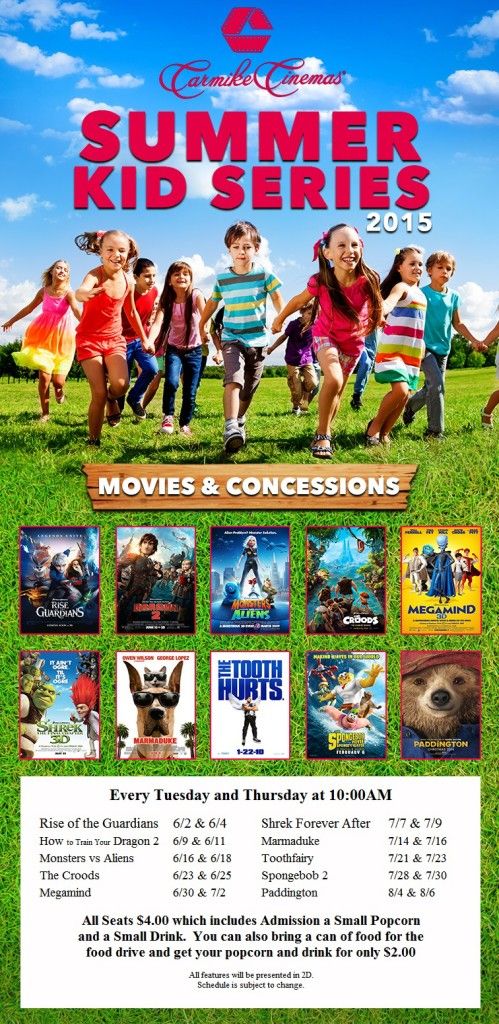 *Above Graphic is National Graphic, see note below referencing fees at Movies 400
2015 Summer Movies for Kids at Carmike Cinemas Movies 400
It's that time again – Summer Movies for Kids! We just received an email from Carmike Cinemas Movies 400 with the 2015 Summer Movies for Kids round-up – woohoo! This includes the Movies 400 location in Cumming GA & Forsyth County!
From Carmike Cinemas / Movies 400:
Shows start at 10 a.m. – doors open at 9am. First come, First serve. Seating is limited.
All movies rated PG or G (Titles Subject to Change – below schedule for Movies 400 as of 4/11/15)
June 2 & 4: Rise of the Guardians
June 9 & 11: How to Train your Dragon 2
June 16 & 18: Monsters vs. Aliens
June 23 & 25: Croods
June 30 & July 2: Megamind
July 7 & 9: Shrek Forever After
July 14 & 16: Marmaduke
July 21 & 23: Toothfairy
July 28 & 30: Spongebob – Sponge Out of Water
August 4 & 6: Paddington
Small Popcorn and a Small Drink are available for $2.  You can also bring a canned food for the food drive and receive yours for FREE. (subject to change)

*Movie titles shown are subject to change without notice. Expired cans, glass containers, or boxed food will not be accepted. Please exchange canned food and school supplies for a coupon at entrance.

*Note: Every year there is a little bit of confusion as some Carmike Cinemas operate their Summer Series differently. I received an official email from Carmike / Movies 400 pertaining to the national schedule and the Movies 400 fees. All information is subject to change, but the email I have states that pricing will remain at Movies 400 as previous years – the movies are free, but a kid size popcorn and drink are available for $2, but free with can good donation.  Other national Carmike Cinemas may charge $4 which includes admission and kid tray from concessions. For more information contact Carmike / Movies 400.
More About Carmike / Movies 400:
415 Atlanta Road
Cumming, GA 30040
Phone – 678.947.4473
Looking for more FREE Family Movies?
We are too!  We'll be on the look out for Summer Movies in Cumming GA & Forsyth County and update them as we hear!