Update: For information on the 2017 Spray Pad Season Information, click here.
Spray Pad Old Atlanta Park in Forsyth County
Forsyth County was busy opening four new parks in June 2012.
One of those parks was Old Atlanta Park located at 810 Nichols Road in Suwanee (Forsyth County).  The park is directly across from Lambert High School.
Old Atlanta Park includes:
Approximately 39 acres, 34 of which are passive use space
Natural Playground
Tot-Lot for Children age 6 and under
Two Pavilions
One-Mile Walking Trail
And possibly most exciting for our family & many others in Forsyth County … a Spray Pad!
The Spray Pad will be open seasonally.  Hours of Operation may vary each year.  Closed on Monday for Maintenance & Private Rental.
Admission to the Spray Pad is as follows (prices subject to change):
Daily Admission – $2 per person (one year & up).  Adults are free if you stay in the "dry area" (basically meaning, if you don't plan on joining in the fun).
Annual Individual Passes – $30
Annual Family Passes – $50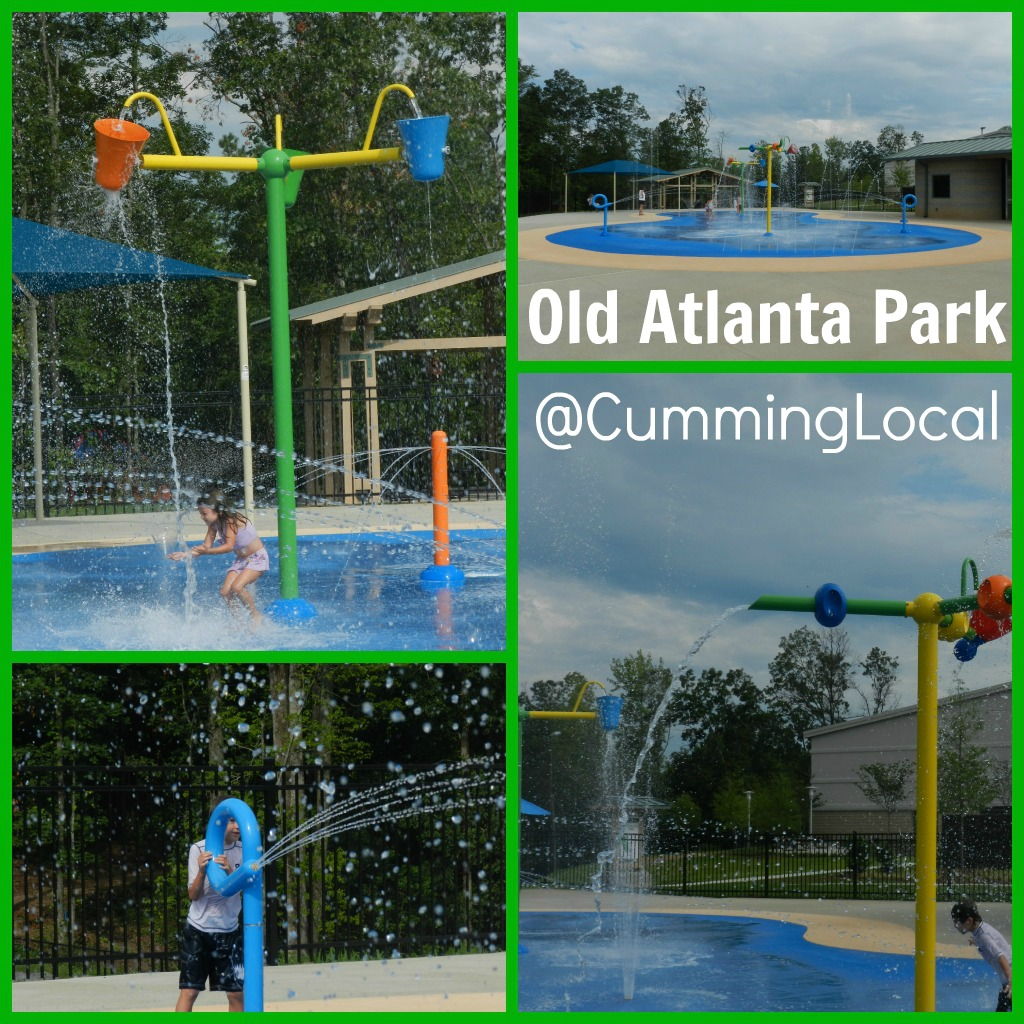 Personal Thoughts (aka opinions of Rachael with Cumming Local):
Pros:
WooHoo!!  How fun is this!
The Spray Pad area is all fenced in.
No deep water to worry about.
Same day re-entry is allowed by simply asking for a wrist band at time of exit.
Bathrooms are convenient & located inside fenced area.
Pavilions are very close.  While you can't bring food inside the Spray Pad area, you could leave a cooler in the car & have a snack or lunch at the Pavilion.
Cons:
At time of posting (July 17, 2012) there was very little seating in the "dry areas".  Consider bringing a chair or blanket to sit on.  However, there is plenty of space so maybe additional seating will be provided at a later time.
At time of posting (July 17, 2012) there was very little shade in the "dry areas".  One large canopy thing & two large umbrellas.  Additional shade in the future would certainly be nice – and again, this may be planned, but I'm unsure.
Tips:
Bring Cash for payment.
Consider bringing a chair or blanket to sit on.
Don't forget your towel, sun screen, hat, etc.
Bring a snack or lunch to enjoy in the Pavilion.  Running around a fun spray pad for just an hour or so will definitely stir up some hunger!
Make a day of it – the playground & recreation center are all in the same parking lot!
More Information:
Old Atlanta Park
810 Nichols Road, Suwanee GA (Forsyth County)
Old Atlanta Park on Facebook
For 2017 Hours, Admission and other information, click here.  

Click here for our thoughts on other Forsyth County Parks & Playgrounds.