Things to Do in Cumming GA – Week of March 14th
Spring is in the AIR! We hope you enjoyed your weekend and the HOT weather. Today we have a round up of all the things to do in Cumming GA this week.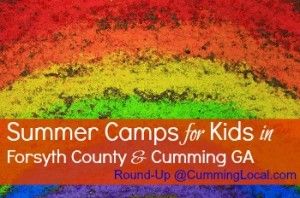 PLEASE NOTE: If your business or church is having a Summer Camp or Vacation Bible School, please make sure to add them to our listing! Click here to enter a Summer Camp and Click here to enter a Vacation Bible School.
Also, if you have something going on that's open to the community, please let us know about it. You can do that by Submitting an Event to our Calendar or Submitting a Press Release.
MONDAY: 
8 Week Fitness Challenge (going on until March 19)
Family PJ Storytime
BeerDinner by Summit Wayside Tavern
Girl's Night Out at Dream Dinners (Thank you to my Co-Sponsors!)
and more!
TUESDAY:
Story Time at Barnes & Noble (Reading The Story of Ferdinand by Munro Leaf.)
Afternoon Story Time at Cumming Library
Family Night at Chick-fil-A
and more!
WEDNESDAY:
Preschool Pals at Sharon Forks Library
Toddler Tales at Sharon Forks Library
and more!
THURSDAY:
PJ Story Time at Cumming Library
and more!
Click here for all the Calendar information – and to get a head start on Weekend Plans!
Deals and Giveaways:
Don't Miss These Posts:
This past weekend, I announced TWO new Girl's Night Out events. Save the date, more info to come on them!


2016 Easter Egg Hunts: We've got the round-up of all the Easter activities in Cumming GA
Poise Physical Therapy & Pilates : Dr. Laura Clemons tells the truth about some common myths.
Do We Need to Pack Those Extra Pair of Shoes?: Jenny Reed shares some packing tips that are super helpful!
Thank You to the Co-Sponsors: These great businesses co-sponsored the GNO event at Dream Dinners.
Disney on Ice presents Frozen in Duluth, GA: Tickets are on sale now!
Kids Eat Free:
We've recently updated our Kids Eat Free Listing! 
 Play Local, Eat Local, Shop Local, Stay Local