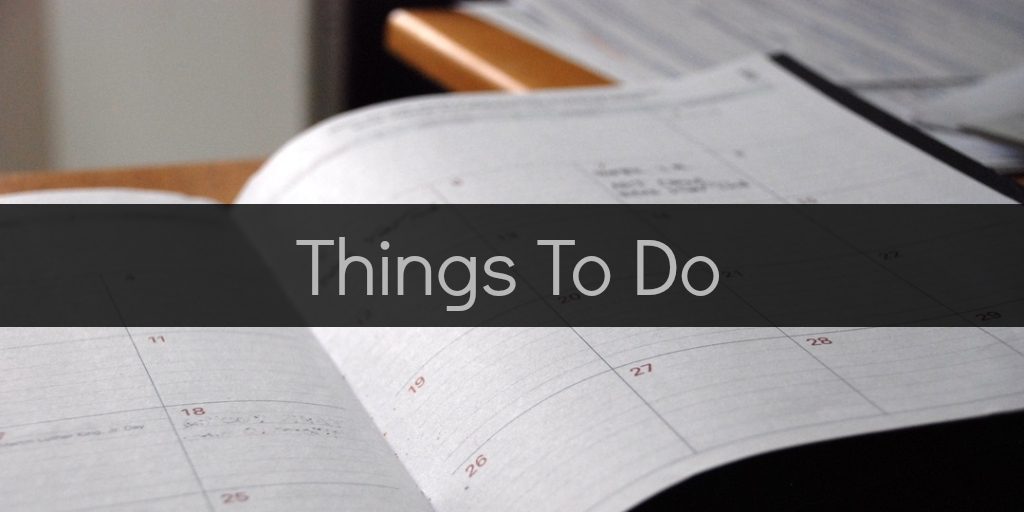 Thank you for visiting our Calendar of Events!
Don't forget to read our Disclosure Policy in connection with our Calendar listings.
If you wish to submit your event, click here.
Oct
17
Wed
$5 Kids Make Your Own Pizza
Oct 17 @ 4:00 pm – 8:00 pm
Kids come and make your own pizza! $5 for a cheese or pepperoni pizza, fountain drink and a cookie. Come be a chef 👩🏻‍🍳👨🏻‍🍳 Jump at Monkey Joes first for half off admission
Diverse Groups
Oct 17 @ 6:30 pm – 8:15 pm
People tend to clump together in groups of similar backgrounds. So much of our lives are spent with people that look like us, think like us, are generally the same age as us and usually they agree with us. As a result, some people never get the opportunity to learn from other cultures and perspectives. Diverse Groups wants to change all that. We want to see people from all backgrounds making friends, sharing perspectives, and learning each other's stories. We believe that if our community can replace stereotypes with real names, faces and stories, we will create a better place to live. We believe that this change starts with honest conversations: the kind of conversations where we admit that sometimes we put each other in a box without knowing enough. We believe that striving to understand each other through honest conversations can be the beginning of something amazing in our city, our neighborhoods, and our lives. Diverse Groups facilitates these kinds of conversations between people from various backgrounds. We create an environment where people can ask honest questions and listen to honest answers. Our groups consist of people from various backgrounds. Each group is a 90-minute event and has a specific discussion topic and a moderator.
Awana at Castleberry Road Baptist Church
Oct 17 @ 6:45 pm – 8:15 pm
Awana Starts Tomorrow!!!
Wonderful program for kids
AWANA
Castleberry Road Baptist Church is excited for the start of AWANA's on Wednesday, August 22, 2018. Please come out and join us.
Children ages three years through 12th grade are invited to join us on Wednesday evenings for a fun time of digging into the Bible, exciting games, building friendships, and memorizing Bible verses. Clubs meet Wednesday evenings, August 22 through May 2019, 6:45-8:15 pm.
Visitors are welcome every club night! Children may join our Sparks and T&T clubs at any time throughout the school year. A registration form, costs and other pertinent information can be found in the Awana Parent Manual and on the website http://crbcawana.org/. Registration forms and payment can be submitted online or at each club's check-in table on Wednesday evenings. Please let us know if financial assistance is needed.
Programs Available:
Awana Puggles and Nursery (6 weeks-3 years)
Awana Cubbies (3, 4 and 5-year-olds)
Awana Sparks (kindergarten through second grade)
Awana Truth and Training (third through fifth grade)
Awana Trek (6th through 8th Grade)
Awana Youth Ministries Journey (9th through 12th Grade)
Further questions?
Contact Mike Sinteff at 404-536-6770.
Oct
18
Thu
Life Line Screening – Community Event
Oct 18 @ 9:00 am
Residents living in and around the Cumming, Georgia can learn about their risk for cardiovascular disease, osteoporosis, diabetes, and other chronic, serious conditions with affordable screenings by Life Line Screening. Fairfield Baptist Church will host this community event on 10/18/2018. The site is located at 1125 Bettis Tribble Gap Rd. in Cumming, GA.
Screenings can check for:
• The level of plaque buildup in your arteries, related to risk for heart disease, stroke and overall vascular health.
• HDL and LDL Cholesterol levels
• Diabetes risk
• Bone density as a risk for possible osteoporosis
• Kidney and thyroid function, and more
Screenings are affordable, convenient and accessible for wheelchairs and those with trouble walking. Free parking is also available.
Packages start at $149, but consultants will work with you to create a package that is right for you based on your age and risk factors. Also ask about our Wellness Gold Membership Program with allows customers to get all the screenings they need now, but pay $19.95 a month. Call 1-877-237-1287 or visit our website at www.lifelinescreening.com. Pre-registration is required.