Poise Physical Therapy & Pilates Forsyth County
I'm very excited to introduce you to one of our new website sponsors – Poise Physical Therapy and Pilates. They are located within Studio Lotus in the Collection of Forsyth. Today, Dr. Laura Clemons is providing us with some myth busters about Pilates and Physical Therapy. These are all common beliefs about both Physical Therapy and Pilates.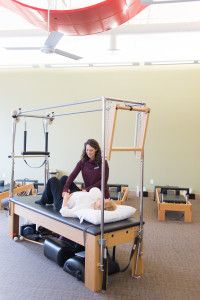 Myth: You only need to have physical therapy when you've been in an accident or have an injury.
Fact: Physical therapists are experts when it comes to how the body moves. We are also trained to evaluate and identify potential problems before they arise, so the truth is it doesn't matter if you have had a specific injury or not. Regardless of your age or fitness level, physical therapy can help you to reduce pain, improve mobility, and stay healthy.
Myth: The only option for me is surgery.
Fact: While surgery and prescription drugs can be the best course of treatment for certain diagnoses, there is increasing evidence demonstrating that conservative treatments like physical therapy can be equally effective (and cheaper) for many conditions.
Myth: Physical therapy is painful.
Fact: My job is to minimize your pain and discomfort. I will work with you to decrease your pain over time. My goal is to work within your pain threshold. Don't steer away from therapy because you think it will be painful.
Myth: I need a physician's referral to see a physical therapist.
Fact: In Georgia you are able to be evaluated by a physical therapist without a physician's prior referral. While you can also begin treatment without a referral, we still communicate with your physician by sending reports and follow up phone calls.
Myth: I will never have "six pack abs" therefore cannot have a strong core.
Fact: Your core is made up of a complex series of deep muscles, many of which are hidden beneath the more exterior abdominal musculature that we traditionally train and see. These include the transverse abdominals, pelvic floor, multifidus, and diaphragm. Our core provides us with stability, which then allows us to perform functional movement.
Myth: You only do Pilates to get stronger abs.
Fact: Pilates has many benefits! It is an effective way to activate, train, and strengthen the muscles of the core, but also works the body as a whole, helping to lengthen traditionally short musculature which helps prevent injury. The other important benefits of Pilates include: centering, flow of movement, control, precision, and quality of breath.
Myth: Pilates is only for young, fit people.
Fact: Pilates equipment and exercises are highly adaptable. They can be modified to fit any body type, age, and functional level. The equipment was originally developed for rehabilitation and we have found it to be an excellent tool for conditions ranging from spinal cord injury, Multiple Sclerosis, Parkinson's Disease, and stroke. It is a way to achieve strength, coordination, and balance through the use of low impact exercise.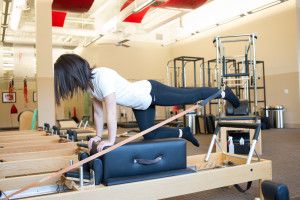 Thank you for taking the time to read these myth busters. My hope is that as you understand more about Pilates and Physical Therapy, you will feel the freedom to call and schedule a consultation with me. I would really love to help you with your goals no matter what they are!
More about Dr. Laura Clemons, PT, DPT: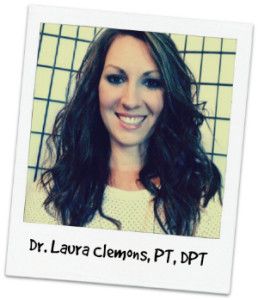 I graduated with honors from Ohio University with an undergraduate degree in Psychology in 2004. I continued my graduate studies at OU and received my Doctorate in Physical Therapy in 2007. I began my career at Emory University, providing intense rehabilitation at the Center for Rehab Medicine, with a primary focus on the neurologic population as well as manual therapy for orthopedic injury. I have since worked in traditional outpatient orthopedics treating a variety of injuries, and in assisted living providing geriatric care. I am certified in Level 1 AHA Hippotherapy, and provide therapy for children with special needs. I became certified in Power Pilates and believe that physical therapy combined with Pilates is a highly effective treatment strategy for restoring function.
I am married to my college sweetheart and we have 2 awesome children, a 3.5 year old son and a 17 month old daughter. We also enjoy our 2 shepherd/husky mix dogs, which makes us interesting on walks in the neighborhood. I love riding horses for some "me" time, and enjoy watching college football and spending time with the family.
Connect with Poise Physical Therapy and Pilates:
Website | Facebook | Phone: 770-820-9123 | Email: Poisephysicaltherapy@gmail.com