Gluten Free and Allergy Friendly Expo Atlanta GA – May 19-20
Whether you're looking for specialty products that taste great or trying to learn how to cook and bake to meet your dietary needs, the Expo is the place to be! I look forward to this event every year! It's great to connect with all the brands and try their products. You will also pick up some excellent coupons as well as go to informative classes.
Gluten Free and Allergy Friendly Expo information:
When: May 19 – 20 from 10am-3pm
Where: Cobb Galleria Centre–Exhibit Hall A, Two Galleria Parkway, Atlanta, Georgia 30339
What do you get with your Expo Ticket?
Entry into the vendor fair with over 100 brands
Valuable coupons at the vendor booths
Samples from the vendors (all food vendors meet the FDA guidelines of less than 20ppm – not all products are manufactured in a dedicated facility and not all products are certified gf). Check with each exhibitor.
Discounted products available for purchase
Informative classes related to the gluten free and allergen-friendly lifestyle
Free reusable bag to carry your goodies
Meet your favorite vendors, authors and bloggers
Why buy your ticket online?
Guarantee that you don't miss out on the Expo – limited tickets available each day
No need to wait in line at the Expo to buy your ticket
The Gluten Free & Allergen Friendly Expo is dedicated to meeting the needs of the celiac community, those with gluten and food sensitivities, auto-immune/inflammatory diseases, and autism. The public is helped through vendor expositions, educational sessions, and online resources. The manufacturers are serviced through vendor expositions, marketing programs, and consultative services.
This team can't wait to meet you!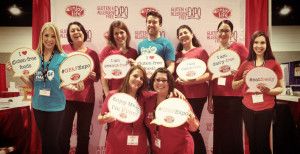 Ready to purchase your ticket?
I have FIVE tickets to give away to this event. All you have to do to enter is comment on this post with who you'd bring with you. I will choose the winners by 5/10/18.You can also enter by commenting on our social media accounts. Good luck!
If you are ready to purchase tickets today, click here. If you purchase your tickets before 4/18, use the promo code "EARLYBIRD" to get 30% off. If you purchase your tickets before 5/18, use the promo code "ADVANCE" for 20% off. 
Connect with Gluten Free & Allergy Free Expo: