Tools for 2018 – Relax!
Each week on Thursday for the month of January we are sharing Tools for 2018. We are currently in the final week of our tools for success this year. To check out the other weekly topics – click here: Week One: Getting Healthy with Meals or Week Two: Getting Healthy with Fitness, Week Three: Finances
Life is busy, hectic, and responsibilities are at an all time high. To put it simple life is stressful! I know it and you know it. But what do we do? Well, I think we all just need to relax. We need to carve out time to rejuvenate. Now I know that's hard because I stay pretty busy myself. But, I have found that you can replace some other things you do with times of rest and rejuvenation.
Here are some examples in no particular order:
Instead of watching tv – read a book
If you have a Kindle check this out: Kindle Unlimited Membership Plans
 (a free month trial)
Instead of going out shopping – get a massage
You can see a round-up of the spas or massage therapy options in Cumming by clicking here.  If you're looking for a deal – Groupon has plenty of options for places in or near Cumming. Click here to see what deals there are. And use promo code SALE3 for 20% off.
Also, Bliss Mama Wellness has a great membership deal. They have several options ranging from $60-110 a month. Check out all they have to offer by visiting their website – http://www.blissmamawellness.com/membership-deals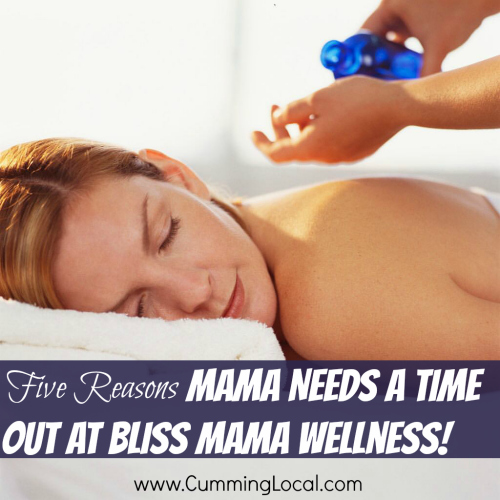 The weather has been chilly, but get outside if you can
Forsyth County has great walking trails between all our 20+ parks and the Greenway. Enjoy them! Click here for more info on our parks.


Instead of getting lost on social media – disconnect more
I just read this blog a few years ago and it really inspired me. We do spend too much time on our phones. It's a great practice to disconnect nightly. We don't need to escape on our phones anymore. We need to connect! Click here to read the blog on divorcing your phone.
Instead of cooking at home – go out to eat
I have it factored into our schedule that we eat out at least once a week or every other week. This takes the pressure off me from cooking every single night! It's like a night off. And those nights are always less stressful for me. Maybe even pick a night where the Kid's Eat Free from our directory!

What else might you add to our list of ways to RELAX?