Tools for 2018 – Getting Healthy with Fitness
Each week on Thursday for the month of January we are sharing Tools for 2018. If you'd like to review the other weeks in the Tools for 2018, click here: Week One – Getting Healthy with Meals,  Week Three – Relax, and Week Four – Finances. (Please note: the links will be put in as those weeks become available.)
Do you know what the top New Year's resolution is? Drumroll please . . . it's to get healthy! Everyone needs to change their habits and get healthy in some way. This week we are discussing getting healthy with fitness.
Here are some examples in no particular order:
There are plenty of gyms around Forsyth County and Cumming GA. But we will highlight a few:
1. Cumming Strength & Fitness: My good friends run this particular gym. Anyone that has tried it has ended up joining. Check them out by clicking here.
2. YMCA: This gym is a great facility – they also have childcare! Click here for more info.
3. Cumming Dance Academy: Ok, I know it's not technically a gym. But dancing is a great work out! Click here for class information.
4. Anytime Fitness: There are three locations in Cumming. This is a great gym because it's open 24 hours a day. Check it out by clicking here.
5. OneLife Fitness: Great classes, gym equipment & childcare at this gym located close to Vickery Village or Windermere. Personally, I have a membership here and have loved taking the group classes. BodyCombat and BodyPump are my favorites. Let me know if you want to join me sometime! Click here for more information. 
Also, we have a round-up of all the reader recommended gyms in Cumming: Click here to see that list.
There are plenty of exercises that can be done at home. Here are a few examples for you:
1- You could take a walk or run around your neighborhood. If it's not too cold outside!
2 – Early morning workouts in your home. I like to do squats, jumping jacks, crunches, and push-ups. That really gets my blood pumping! For more ideas you can check out our Pinterest page by clicking here. I created a whole board on fitness tips and ideas.
3- Make better choices. What I mean by that is . . . instead of riding the elevator take the stairs or park father away from the store so you have to walk more. I wear a fitbit and it helps me to take more steps. I try to do at least 10,000 steps per day!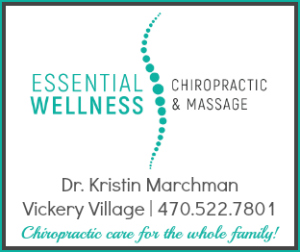 I go to the chiropractor every 3 weeks to get adjusted. I fully believe that keeping everything in line helps me to be healthier. We would recommend Essential Wellness. Click here for more information.
This is my favorite way to get fit! Most nights during the week after dinner, we turn up the kid's dance mix on Pandora, and have a dance party. The kids love it. And we all get a great workout! Plus it's lots of fun with the family.
Any more ideas for getting healthy with fitness that you could share?



Disclosure: This article contains affiliate links – meaning if you purchase the deal from the links provided Cumming Local will receive a small percentage of the sale. Cumming Local is thankful for all our sponsors and affiliates as it allows us to keep this site up to date & active!