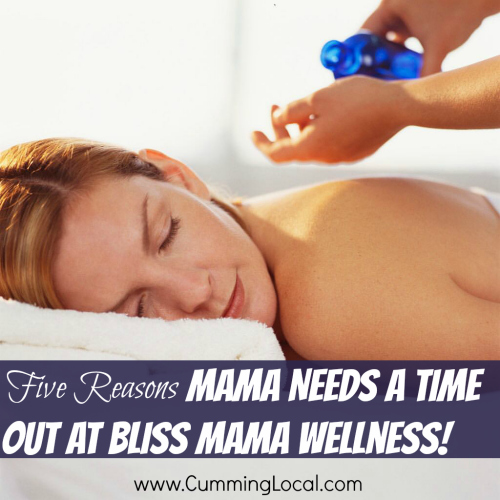 Moms: Let's all unite and say this together "Motherhood is not for the faint of heart." Isn't that the truth? I remind myself of it all the time. We have a very hard job being the mommy of the household. We make sure our families eat, sleep & stay alive. Our job never ends because we work 24/7. This applies to the stay-at-home mom as well as a working mom. At the end of the day, we are all Mamas! And as Mamas we need someone to put us in time out! Luckily, Bliss Mama Wellness has put together a Mama's Time Out treatment just for us.
Today we have put together a list of the top FIVE reasons why YOU need a time out from Bliss Mama Wellness:
#1 – You Will Be A Better Mom After A Time Out
It's true. I am always a better mom when I have some time to myself. Last week I was able to experience this Mama's Time Out treatment from Bliss Mama Wellness. First, let me say that the office atmosphere itself creates instant relaxation. My appointment was an evening one so it was nice to end my day with a treatment. My massage therapist, Cynthia, took some time with me before to discuss any areas that I'd like her to focus on. I carry all my stress where my neck meets my shoulders so of course I told her to focus on that. The entire treatment was perfect and just what I needed. Cynthia even gave me some stretches to do on a daily basis to help with muscle issues that I have. After the appointment, I came home ready for bed! I woke up the next morning so rejuvenated. It's amazing what some time to yourself does for you as a mother!
#2 – Taking Care Of Yourself Is Very Important
As moms we spend all our time taking care of other people and we often neglect ourselves. It's easy to do! But, it is so very important that we take time to care for ourselves as well. Constant stress from being a stay-at-home mom or working mom can really wear on you. I know that full well. And I have learned that I have to give my self moments of rest or I will end up sick. Take the time to care for yourselves!
#3 – You Work Very Hard 
I sometimes get to the end of the day and think man, I feel like superwoman today. And then some days I think today was a total failure. Regardless of how the day played out, the truth is – you work very hard! And you deserve to have a time out! I know I'd like to spend my time out being massaged, how about you? LOL!
#4 –  SILENCE
I don't think this one needs much of an explanation. We all need silence. The world is loud and full of constant motion. The Mama's Time Out treatment will provide that silence that you so desperately need!
#5 – There Is A Special Price Just for Cumming Local Readers!
This glorious 90-minute treatment is regularly $125. However, Bliss Mama Wellness is offering this treatment for $20 off making it $105! Listen to the description of this treatment: An ideal escape, this package includes 90 minutes of soothing customized massage, plus a sugar foot scrub to exfoliate and deeply moisturize tired feet, and a calming mini facial to rejuvenated skin. That right there is enough to sell me on scheduling an appointment RIGHT NOW!
What are you waiting for? Call Bliss Mama Wellness today to schedule your Mama's Time Out package. Make sure you mention Cumming Local for the $20 off special!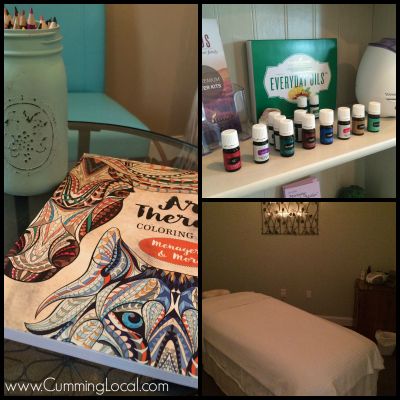 Bliss Mama Wellness
110 Samaritan Dr. Suite 202
Cumming, GA 30040
Phone: 770-722-2711
Visit Bliss Mama Wellness Online
Like Bliss Mama Wellness on Facebook