Each week on Tuesday for the month of January we are sharing Tools for 2017. This is our last week of the Tools for 2017. We hope that they have been helpful to you! If you'd like to review the other weeks in the Tools for 2017, click here: Week One – Getting Healthy with Fitness, Week Two – Finances, and Week Three – Relax, or Week Four – Getting Healthy with Meals.
This week we are discuss ways to save money!
Coupons Are Great


There are lots (and lots & lots) of couponing and deal websites out there.  It can become incredibly overwhelming.  But here's my one tip – follow someone local!
The big sites are great – really they are.  And I "like" several of them on Facebook and try to keep up.  But if you're looking to really save from stores that are actually here in town, I say find a local deal blogger.  And of course I have a recommendation for you – www.CouponsAreGreat.net.
Through this website, Coupons Are Great Leandrea shows you that coupons add up and give you more money to pay for the fun things in life.  As a parent Leandrea learned that toys often go on clearance and decided that if she wasn't going to pay full price for brand new toys that she wouldn't pay full price for essentials like toilet paper or toothpaste.
In addition to coupons & deals, she also hosts some really great giveaways, practical crafts & tips, and always has tips on getting products for FREE. You may run in to Leandrea shopping at a local store (yes, with coupons but without a huge coupon binder) or running/biking on the Greenway.
And don't just take my word for it – over 85,000 people follow her site on Facebook!!
Connect with Leandrea & Coupons Are Great: Like Coupons Are Great on Facebook | Subscribe to Coupons are Great Emails
SWAG Bucks
Join Swagbucks!
I was introduced to SWAG Bucks a few years ago and have loved using it. Basically you give your feedback on short quizzes and you get rewarded with SwagBucks. Then you can use those bucks to purchase gift cards.
Click here to sign up for a FREE account.
CertifiKID
CertifiKID is pretty much like Groupon, Half Off Depot, etc. You sign up for a free account and then you can browse the deals for activities or products in your area. If you find something you like, you just purchase the voucher. I use it all the time for personalized gifts. Super easy to use!
Click here to set up a Certifikid account.

Southern Way Insurance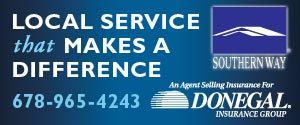 Maybe you need to update your insurance policies for home or auto? Give Craig a call at Southern Way Insurance Agency and he can help you consolidate and possibly save money on your insurance products!
Click here to read some questions I recently asked him about his services.
Connect with Craig at Southern Way: Online | Facebook | Phone: 678.965.4243
Amazon
I gave myself the gift of Amazon Prime at the beginning of last year. It has paid for itself already and more! I love the free two day shipping on anything (as long as it's labeled "prime"). I also have enjoyed having another way to watch shows and movies.
For more information and to sign up for an Amazon Prime account, click here.
Meal Planning
I heart Eat at Home Cooks weekly meal plans very much! For as little as $1.61 a week (This is the price per week in the 12 month package), you will get a full weeks menu plan and a grocery list. You also get to choose from three types of plans – traditional, slow cooker, or whole foods. It really is a great deal! There are so many benefits to using a meal planner. But my two biggest reasons are – it keeps you from eating out all the time and makes life easier on you!
Click here to take a look at the different meal plan options and sign up today!
Goldstar

Right now Goldstar has discounted tickets to see Shrek, to go to LegoLand, 1/2 price tickets to Falcons games, and so much more! If you don't have a free account – you will want to set this up. I never pay full price for tickets anymore since I got a Goldstar account.
Click here to sign up for an account
Online Grocery Shopping

This is a new one for me. But I have been using the online options for groceries the last month. And I can't believe how much money I have saved. Ordering online is making me very disciplined to only purchase items on my list. I don't see anything else on the aisles and that has helped. You should try it for yourself!
Click here to see the pros and cons of both grocery pickup options in Cumming GA
Don't Miss Cumming Local News
We are always sharing great deals on CummingLocal.com. And the best way to make sure you don't miss them is by subscribing to our weekly newsletter. If you depend on getting your news from Cumming Local on social media, you will miss some posts. Learn why in this article we published a few months ago, click here. In that article I do make some suggestions on how to change your settings so you don't miss as much.
Click here to subscribe to our weekly newsletter