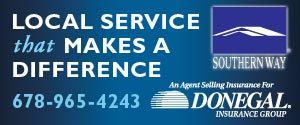 Sponsor Spotlight: Southern Way Insurance
I recently had some time to sit down with Craig Crawford to discuss his business – Southern Way Insurance Agency. Below are some questions that I asked him. I thought these would be helpful to you as well!
Question #1 – What is the advantage to using me as your insurance representative?
Answer #1:
"I have been in the insurance industry for 27 years as both a claims adjuster and an insurance agent. And I plan on being here the rest of my career as well! Southern Way Insurance Agency is an Independent Agency which means we represent several different companies. That means with our connections and knowledge of the market, we can find a the best value for your insurance dollar. We also like to think of ourselves as your trusted insurance advisor. You will be able to work with us face to face so we may learn your individual insurance needs and make sure you are covered properly. We are also your connection if you have any sort of billing/claims/customer service issue. Instead of calling a 1-800 # and not knowing who you are talking to…you call us! We will be your advocate working with the insurance company on your behalf. Southern Way Insurance Agency is also your neighbor! We know the area and its benefits and challenges. We will be your neighbor that can help you with your insurance needs as they change with life." 
Question #2 – How can I save the most money on my insurance coverage?
Answer #2:
"This is a question we get everyday! We LOVE the challenge of not only getting you the best coverage…but also saving you the most $$! We will make sure you are getting every possible discount you are entitled to. We can bundle your home/auto coverage together. We can make sure if you have an alarm system at your home that you are getting credit for it. Have a child who is a great student? That saves money as well. We will sit down with you and make sure you are getting everything you need and sometimes that means taking things off that you DO NOT need." 
Question #3 – How do I know what type of coverage I need on my home/car/etc?
Answer # 3:
"This is where our personalized local service is invaluable ! Every risk we see is different. We take the time to develop an individual game plan to make sure you are covered as well as possible. Do you have a trampoline? Pool? Dog that is a little over "friendly"? These are some of the risks that we see on a daily basis and we want to make sure you are covered! Do you know if you have uninsured motorist coverage on your auto policy?  We will go line by line through your coverages to make sure YOU are aware and educated on what you are purchasing. Your home and automobiles are two of your BIGGEST investments. Together we will make sure you are prepared and covered properly!"
Here is a testimonial from one of Craig's customers: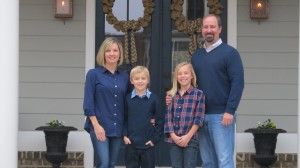 "I consider Southern Way, and specifically Craig Crawford, to be the best when it comes to finding the right fit for my families insurance needs. From the beginning, Craig was responsive, sincere, and really took the time to listen in order to find the best insurance solutions for my family. Craig helped me understand where I was over-insured, and where I needed additional coverage. He shopped multiple carriers, and left me feeling like when it came time to make a decision, that we had covered all the options. Even the paperwork was painless. Since becoming a client, the relationship has only improved . I feel like my family has an advocate who we can trust to help us secure our future. Wouldn't change a thing!"
More about Southern Way Insurance Agency: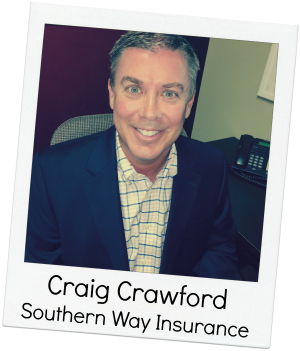 Southern Way Insurance Agency offers world class protection for your Auto, Home, Boat, RV and Business. We can help identify your insurance needs and provide an affordable plan that is simple to understand!
Connect with Craig at Southern Way:
Online | Facebook | Phone: 678.965.4243