A Mom's Comparison of Kroger's ClickList & Walmart's Grocery Pickup
Today's post is from a friend of Cumming Local's – Catherine Lorence. She spent some time this summer shopping through Kroger's ClickList and Walmart's Grocery Pickup Service. She has some great insights to share with you about both experiences.
Over the summer, I had the opportunity to take advantage of a couple of pretty fantastic grocery services we have available in Forsyth County. As a mom, I find myself constantly trying to figure out the most optimal times and ways to grocery shop with my two kids and work within my monthly food budget. And when they are both home with me every day of the summer, those optimal times are fewer and farther between. Fortunately, there are two grocery stores close by that have completely changed the way I shop, and have proven to be "game changers" in my world. Here is an honest parent review on Kroger ClickList and Walmart Grocery Pickup with a list of Pros and Cons for each. I hope you will find this helpful if you decide to participate in the ever-growing online grocery shopping trend.
For both stores, the concept is simple. I log on to the store website and create an account. Once logged in, I immediately see a home page that features a list of items I have previously purchased (a real time saver when purchasing staple items week after week), weekly sale items, and a search feature. Occasionally I have to search for items, but the search features are simple to use and I've not had any trouble finding anything. Additionally, both stores keep a column on the right side of the screen of the items that have been added to my cart. This helps me keep a running total of my grocery bill as I shop. One reason I have particularly enjoyed having the online cart is that I can add items throughout the week as I see I need them.
When completing my order, I simply check out online and select a convenient time to pick up my groceries. Both stores send an email confirmation with my order details. The emails contain instructions on how to edit my order (if needed) and where to go to pickup the groceries.
When it is time to pick up, both Kroger and Walmart have designated parking spots and a phone number to call to let them know I have arrived. A friendly associate comes out to my car with my groceries, they review the order with me, load them in the back and I am on my way home. It really is that simple!
Here is a list of the Pros and Cons:
Kroger Click List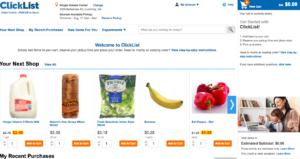 Pros
Easy process to log in, find items and create my order
After each order, I'm sent an online survey. Completing the survey adds 50 fuel points to my Kroger Plus account.
When purchasing produce, I have the option to specify quantity in number of pieces. For example, I can indicate I would like to purchase 6 apples instead of guessing how many pounds I need to buy.
Each item in my cart has a "Special Instructions" section beside it. So if I need the shopper to know I only want ripe avocados, I can make a note of it there.
No impulse buying in the store! I stick to my list and that equals money saved.
Same day pickup if you place your order a few hours before.
Cons
Pay with credit card at the curb instead of online when checking out. This adds a little more time to the pick up process but nothing major.
The service has a fee of $4.95 each time. The first three times the service is free, but then the $4.95 fee is tacked on to the bill.
Can't pay with cash
Walmart Grocery Pickup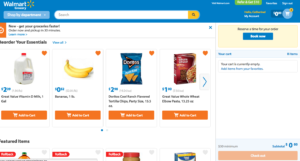 Pros
Easy process to log in, find items and create my order
I was emailed an online code to use for my first visit, which gave me $10 off my first order.
The service is free to use!
Same day pick up is available (if I want to pick up within 30-90 minutes of placing the order, there is a small fee)
Pay online when I check out which makes the pick up process that much faster
No impulse buying in the store! I stick to my list and that equals money saved.
Cons
For certain produce, I can't indicate the number of pieces I want to buy. I have to enter the weight for items like apples, and that can take some guesswork without knowing the size of the apples in stock.
Can't pay with cash
For me, I love both grocery services and I don't think you could go wrong with either one. However, I give the slight edge to Walmart Grocery Pick Up because that is where I'm seeing the biggest impact on the bottom line of my grocery bill each month. I hope you will find yourself just as excited to give both a fair shake and decide for yourself which best suits your family.
Note: These locations are the Kroger located at 2325 Bethelview Rd. Cumming, GA and Walmart located at 5455 Atlanta Hwy Alpharetta, GA 30004. Not all locations offer these services.
Happy Shopping!