Things to Do in Forsyth County GA this Weekend: November 1st – November 3rd, 2013

November!?!?  How did that happen?  All that's left over from halloween is the mess and candy and just like that it's the first weekend of November!  If you're looking for things to do in Forsyth County GA this weekend and throughout Cumming – you're in luck!  It's a weekend of fun and a great time to start with some local holiday shopping too!
Please make sure you stay in the loop by subscribing to our daily newsletter – it's the easiest way to know about things to do in Cumming GA & Forsyth County … especially during the upcoming busy season!
Be sure to take a look at our Calendar of Events page for a full listing, plus you'll find all the details on the following:
FRIDAY:
Details on the below can be found on our Calendar of Events page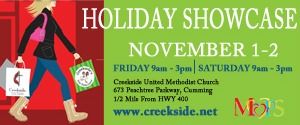 SATURDAY:
Details on the below can be found on our Calendar of Events page
Free Fun Fit Club
Holiday Showcase & Kickin' Chicken at Creekside UMC (Click here for more information)
Christmas Bazaar at Cumming First United Methodist Church
Bethlem Baptist Fall Bazaar
Walkup Family – Dine to Donate Event at Good Grub Subs (Click here for more information)
Home Depot Workshop for Kids
Storytime at Barnes & Noble
Multi-Family Yard Sale
And more!!
SUNDAY:
Details on the below can be found on our Calendar of Events page
Talley's Folly at the Cumming Playhouse
Click here for all the Calendar information.
Coupons & Deals:
Kids Eat Free
Don't forget to check out our Kids Eat Free Listing for the Weekend too!
Don't Miss these Posts
Christmas & Holiday Fun:
No matter what you do this weekend, we hope you enjoy it & have a safe one!