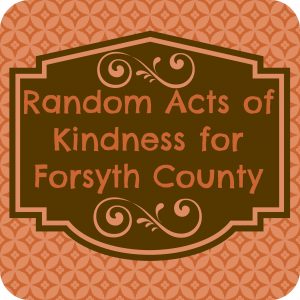 Random Acts of Kindness for Forsyth County – Week Three
We're in week THREE of our mission to spread some kindness and love throughout Forsyth County.  If you've missed them, click here for Week 1 and Week 2 ideas.  Are you joining us?  We'd love to hear about it!!  Spread some kindness and love throughout Forsyth … we could all use a little unexpected happiness in our lives, right?
As a reminder, each week in November, we'll put together a new list of some ideas.  Use these or come up with your own and help spread some kindness each day.   
Ideas for Week Three:  
1.  Deliver a batch of warm cookies to a neighbor.
2.  Surprise your son or daughter by doing one of THEIR chores!!
3.  Take doughnuts to the custodians at your child's school – the overlooked hard workers!
4.  Take coloring books & crayons to the CHOA Forsyth waiting room – there's bound to be a little kiddo there could use a "cheer me up".
5.  Offer to babysit a family or friend's kiddo for a night – FOR FREE!
6.  SMILE a lot.
7.  Send a hand-written thank you note to a mentor, old teacher or old boss that taught you a lot!
Spread the love:
Feel free to tweet or share on Facebook with the hashtag #LocalRAK or #ForsythCO so we can follow along!
Will you join us?
Make sure you are subscribed to our newsletter so you don't miss any of these updates! Click here to sign up to get our updates.