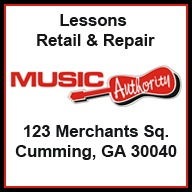 Music Makes a Difference
Music Authority would like to share a real life story about a boy named Jackson. Because of Music Authority, he was changed for the better. Music does make a difference!
Jackson Warren was a very quiet child. He rarely engaged others, even those whom he knew. He didn't handle change well and became easily frustrated with unfamiliar material or situations.
All of that started to change at the age of seven, while in the second grade, when Jackson started guitar lessons at Music Authority. At that point, he had persistently asked his mom over the course of a year if he could learn to play guitar. Before she agreed, Jackson had to convince her he had the personal level of commitment that learning to play an instrument requires.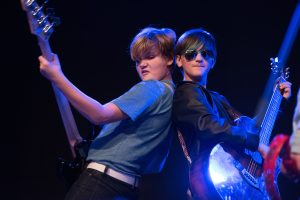 The fact that he persisted with the request for a year was in itself a surprise to her. When asked, why guitar, Jackson's mother Carol told us, "I think he initially wanted to play because he knew his dad had played guitar a little bit. This is a kid who rarely tells me anything he wants and asked to play guitar for a year." Jackson's father, Charles, was in the National Guard for 16 years. While serving our country in Iraq he was killed by a VBIED – vehicle born improvised explosion devise at a military checkpoint. He received a Bronze Star and a Purple Heart. Jackson was less than two years old. There is no doubt in his mother's mind, Jackson was trying to find a connection to the dad he was too young to remember.
Practice was difficult for seven year old Jackson at first. It wasn't what most young boys consider as fun and learning to read music was difficult for him. However, he kept his commitment to his mom and his connection to his father and stayed the course; slowly he began to make progress with his endeavor. Fast forward to the summer before third grade, Jackson found something tangible, more fun and exciting to focus on: the Music Authority String Ensemble.
The newly launched program initially consisted entirely of high school girls until Jackson became involved. He was never intimidated by the ensemble, naturally the darling young man of the group, and he worked hard to hold his own with the other musicians. Practice was more fun because his group depended on him and his instructors noticed Jackson's reading skills were advancing quickly for his age. His mom is convinced his progress was directly related to his involvement with the String Ensemble.
That year saw the shy little boy who had trouble talking to strangers, also participating in Music Authority's Guitar Triathlon. He took the chord test, a music reading test, and performed his own original work in front of a room full of contestants and observers. He placed first in his age bracket!
Jackson also performed in his first large scale Music Authority production that spring: Friends in Low Places. This opportunity gave Jackson an inside look and first-hand experience at being in a band and performing in front of an audience of 300 fans. It was a struggle for him in the beginning of rehearsals, his song was "Ring of Fire," but by the date the concert rolled around, Jackson was prepared and his performance a success.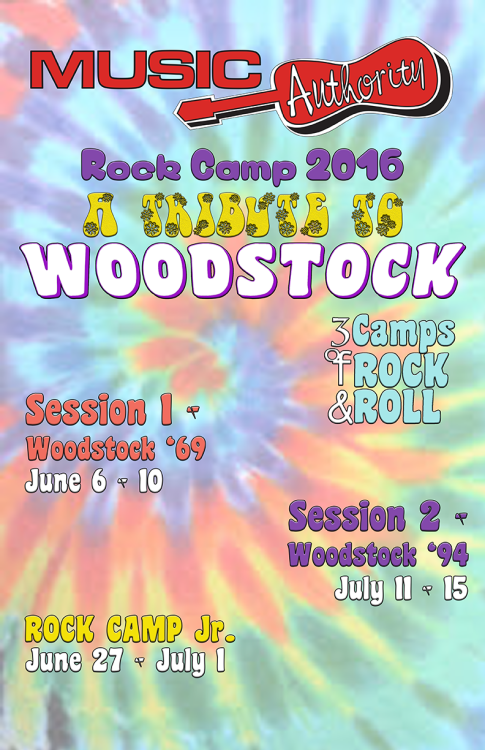 That summer, Music Authority's Rock Camp became the next logical step in Jackson's evolution as a musician, followed by voice lessons, piano lessons, and bass guitar lessons. (The first day he picked up the bass he couldn't even reach the tuning keys!)
This year, Jackson is in the 5th grade. His resemblance to the shy, quiet child we knew when he first came to Music Authority is vague. He practices for 1 ½ hours most days, showing a level of commitment, seldom seen in someone so young, that hasn't waned since the days when he was trying to convince his mom that he needed to play music. When asked why, he'll tell you he wants to be better than good – he wants to be great. Jackson will be attending his third and forth Rock Camps this year and is now a senior member of the Music Authority String Ensemble. He shows up early for rehearsals, sets up the rehearsal space, helps the other members tune their instruments, and has even started rehearsal when the instructor was running a few minutes late.
In this year's spring concert production, "Silver Screen: The Sequel," Jackson played bass in a band whose members were struggling. Rather than get frustrated and let an instructor sort out the problems, Jackson took an active role in working out the parts with the other band members. He leads by example and helps new performers with their stage presence. After all, no Music Authority show is complete without a trademark Jackson Warren stage kick.
Outside of Music Authority, Jackson took the initiative to join the almost all-adult John's Creek United Methodist orchestra. He plays electric bass and is one of three non-adults in the orchestra. He'll be joining the school band in the fall, too, but only for the extra musical experience, he says. His goal is to play in one of Music Authority's, audition only, showcase bands. He has a lot of options as an accomplished guitarist, bassist, and keyboard player.
Just this week he saw a call for auditions in the church program. He immediately grabbed his guitar, went to the person listed for the audition, and asked to play. He got the job.
When asked what Music Authority has done for Jackson, this is what his mom had to say, "At Music Authority, Jackson has multiple opportunities to learn music, to play different instruments, to perform, to work in a group and independently, and to learn leadership skills. He learns how to handle difficult tasks, overcome challenges, and deal with frustrations. He learns music is fun and it is work. He learns that commitment and practice can make you a great musician. He learns dedication to and passion for something. Music Authority gives Jackson a foundation and skills that he will use for the rest of his life."
Learn more about Music Authority: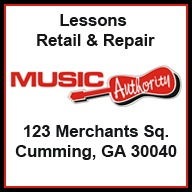 Music Authority is a single location music store and music school in Cumming, Georgia, just north of Atlanta. It sees 500 students each week and contracts with almost twenty instructors.
Aside from private lessons, Music Authority offers two Rock Camps, two Showcase Bands, two large Rock-Style concerts, a String Ensemble, a Jazz Ensemble, an adult Choir, a Teens-Only New Year's Eve Concert, and monthly Student Jam Nights, Open Mic Nights, and Adult Jams. In August Music Authority will be open its own intimate fifty-seat performance venue.
On any given weekend Music Authority alumni can be seen playing music in small and large venues from Savannah to Los Angeles.
Since 2002 Music Authority has touched the lives of thousands of students, the young and shall we say the young at heart.
You can find the Rock Camps from Music Authority on our 2016 Summer Camp listing. 
Connect with Music Authority online:
Facebook | Website