Rosie the Riveter: A Living History Presentation
March 23, 2021 @ 7:00 pm

-

8:00 pm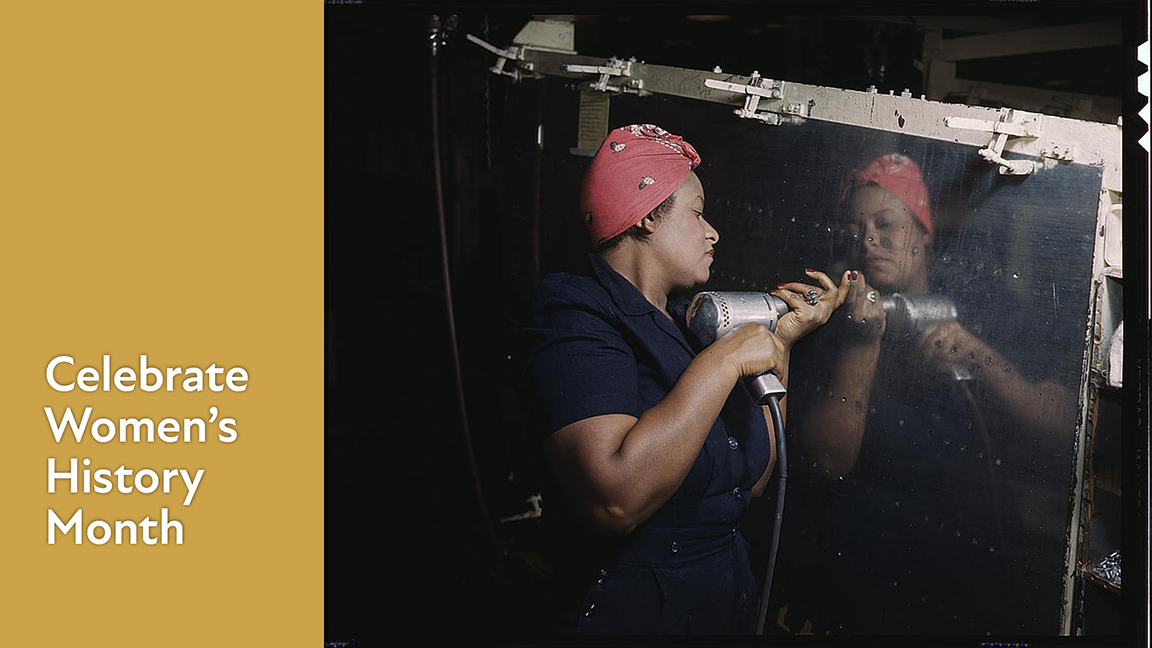 To create an authentic moment in time for audiences, Tracy Lee White combines meticulous research, her own family history, local history, and stories of the real "Rosies" who helped win WWII. Using real items from the time including currency, ration books, government publications, news reels, music and clothing, she transports the audience back to 1943 and gives them a firsthand glimpse into war-time life. Meeting Rosie is truly a unique and memorable experience for the audience.
During the program, you'll also meet local "Rosie" Louise Cooper. She's "Lou" to her friends and family, and "Coop" to the gals building Liberty ships with her at the Brunswick, GA Shipyards. Come chew the fat with this "Rosie the Riveter" and learn how women are doing their part to help the Allies win the war. Learn about the latest rationing rules, women's changing roles in society, and what Forsyth County is doing to help win the war and get our soldiers home! You may even recognize a few local names!
You will also receive a "time travel packet" to help fully immerse you in 1943! (Please see information below.)
About Tracy Lee White
Tracy Lee White began her performing career at the age of five and has been performing ever since. Ms. White's experience includes improv, teaching, directing, choreographing, costuming, other technical roles, television and film. Some of her former students have gone on to careers on Broadway and in TV and film. Teaching positions include Let's Pretend, Ferst Center for the Arts at Georgia Tech, and the Georgia Aquarium. She was a Shuler Awards Adjudicator for three years. One of her favorite gigs remains touring as "Ms. Frizzle" with Scholastic's Magic School Bus. She happiest when education merges with performing. Ms. White's "Living History" presentations combine performing, improv, factual events and people, and history to bring composite characters to life to teach and inspire.
Registration is required.
This program takes place via FCPL's GoToMeeting platform. Login information will be emailed to you prior to the program.
You will also receive a "time travel packet" to help fully immerse you in 1943. Please indicate the library branch where you wish to receive it. There will also be a drawing for five 1943 steel pennies and Rosie the Riveter pins!
Related Events