The following is a post from Contributing Writer & Cumming Local Sponsor, Jenny Reed. Through her business – Our Cruise Planner, Jenny helps her clients in Cumming and nationwide take the vacations of their dreams. Jenny is also a former Cast Member at Disney World in Orlando Fl – she can most definitely help your family find the magic of a Disney Vacation! Let Jenny take the hassle out of your next getaway – on land or at sea!
Jenny will be with us all week – she's sharing "Disney Decisions" – helping guide you through land OR sea with the Mouse?  She'll share things to consider and tips from Attractions & Entertainment to Accommodations, Character Appearances and Dining!  Make sure you check out her article each day to not miss out!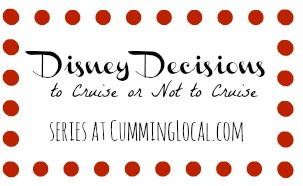 Disney Decisions … with help from a Disney Travel Expert
There is nothing more magical than a Disney vacation with your family! But deciding what to do and where to go can be a daunting task. So which do you choose – a Disney World resort vacation or a Disney cruise?
While both offer the Disney experience we expect and enjoy, each type of vacation has its advantages. So let's explore several categories (and tips) to help make the decision a little easier.
Accommodations
When staying on property at Disney World there are 5 Value Resorts, 4 Moderate Resorts, 8 Deluxe Resorts and 8 Home Away From Home Resorts. Wow 23 resorts to choose from!
Guests staying at any Disney owned resorts who are flying into the Orlando airport can take advantage of Magical Express. This complimentary service shuttles you to and from your Disney resort and the airport. There's Disney's Extra Magic Hours for resort guests as well. Each day one of the Disney Theme Parks opens an hour early or remains open for three additional hours exclusively for Disney resort guests. In addition, guests staying at Disney Resorts can use the buses, monorails and/or water ferries to get to their destination or park free at the parks.
From budget-friendly resort rooms to 2 bedroom villas with a view of the savannah at Animal Kingdom or a theme park view, there are many options to choose from for all budgets.
On the four Disney Cruise Line cruise ships that sail 3, 4, 5 and 7-night cruises year round, guests can choose an inside cabin (with virtual port holes!) to a suite as well as the destination and length of the cruise. Disney Cruise Line designed most staterooms with families in mind with split bathrooms making it easier for busy families to get ready for the day. For an extra treat, try a stateroom with a private balcony to give you the perfect ocean view!
TIP: When choosing a stateroom on a Disney cruise, be aware of what decks are above and below your stateroom.
Have an "Accommodations" Question for Jenny?
Do you have a question to help you make a "Disney Decision"?  Have a specific question about staying on property or on a cruise ship?  Share in the comments below and we'll make sure Jenny sees it.  Or reach out to Jenny directly at the contact links provided below.
If you happen to be headed to Disney World already, check out Jenny's Magical Disney Tips.
Connect with Jenny: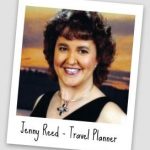 Email – Jenny@OurCruisePlanner.com
Online – www.OurCruisePlanner.com
Facebook – www.Facebook.com/OurCruisePlanner
Twitter – www.Twitter.com/TheTravelExpert
Phone – 678.947.5115