The following is a post from Contributing Writer Jenny Reed. Jenny, through her business – Our Cruise Planner, helps her clients in Cumming and nationwide take the vacations of their dreams. Jenny is also a former Cast Member at Disney World in Orlando Fl – she can most definitely help your family find the magic of a Disney Vacation!  Let Jenny take the hassle out of your next getaway – on land or at sea!

Making Magical Memories at Disney World
I recently returned from a magical weeklong visit to Walt Disney World with my family.  This was our first trip to the area for that length of time with our son.    I think I need a vacation from this vacation but nothing was more special than seeing the whole experience through the eyes of my almost-four-year-old son.   I remember the Magic Kingdom being a special place to visit when I was a child as well!
Even as a former Cast Member and as a travel planner, I learned quite a bit during our visit as well and hope the tips and hints below will help make your first or your next visit to Walt Disney World magical as well.
Where to Stay?
There are so many lodging options on and near property.   I liked the advantages of staying on property.   We stayed 3-nights in a preferred room at the Pop Century Resort and then spent the remaining 6-nights at Disney's Wilderness Lodge in a courtyard view room.  We enjoyed both resorts and this plan added variety and gave us the chance to try a value resort and deluxe resort without breaking the bank.  As with every Disney resort, each had its unique qualities and perks.
Use the Disney transportation system.
If you are staying on property, this is a nice perk.   Even though we had our car, we used the bus, monorail and ferry system the majority of the time.    Be aware if your resort shares the bus route with another resort so that you can plan appropriately.  For example, Pop Century has its own bus to the parks as it is the largest resort on property but the Wilderness Lodge shares with the Grand Floridian or Fort Wilderness Resort depending on the park you were visiting.  The Wilderness Lodge is only a mile from the Magic Kingdom however and offered direct and fast access via bus or by private water launch which was great as well.    Using the transportation system was easy and my son thought riding the "school bus" was just part of the whole theme park experience!
Dining Plan or No Dining Plan?
We took advantage of special promotional rates that were not combinable with the Disney Dining Plan.  However, I saw many people using the dining plan with success and have had many clients use the plan as well.   When trying to determine if the dining plan is right for you consider the eating habits of your family.  If you have a picky eater, the plan may be more money than you need to spend on food.  If you have a car and want to explore local area restaurants this can be an option.  Also, Disney allows you to bring food into the parks and there are lockers at each park to store a cooler for your dining breaks.  There are lots of options to make sure that the family is well fed (and hydrated!) during the trip.   We found a combination of these ideas to work for us.
Fast Pass!
This is essential during the busy summer season when lines can become long for some of the more popular rides.   You can utilize one Fast Pass at a time for each person that has a park ticket (under 3 years old – no Fast Pass needed).     HINT:  We found that riding the rides during the 9 pm parade at the Magic Kingdom (I saw a 10 minute wait for Space Mountain!) were great but be prepared to fight a large crowd on Main Street if you are leaving the park before the 10 pm fireworks!  Here are recommendations per park and from the summer time wait times I saw:
If you are planning your vacation during non-peak season, Fast Passes might not even be needed.
Take Time to Enjoy!
I think the most important tip is to take your time and enjoy!   Often times we get caught up in the planning, where to eat, what characters to see, and what rides to ride that we miss the small things.   My fondest memories of this trip include the shear excitement of my son when riding Dumbo one evening under the lights or watching the giraffes on the savannah use the tall trees as umbrellas when it was raining or the amazing luck of getting to see Wishes fireworks from our water launch back to the Lodge and hearing my son say "Happy Birthday" at his first sight of fireworks.  It's the small things in life that make us smile the most!
Disney's theme this year is "Let the Memories Begin".  It is very fitting theme and I hope that you make many memories on your magical trip to Walt Disney World!   Can you tell I was pixie dusted at an early age?!  I look forward to many more magical adventures!
Happy (Magical) Travels!
Connect with Jenny of Our Cruise Planner: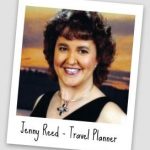 Email – Jenny@OurCruisePlanner.com
Online – www.OurCruisePlanner.com
Facebook – www.Facebook.com/OurCruisePlanner
Twitter – www.Twitter.com/TheTravelExpert
Phone – 678.947.5115