The following is a post from Contributing Writer Jenny Reed. Jenny, through her business – Our Cruise Planner, helps her clients in Cumming and nationwide take the vacations of their dreams. Jenny is also a former Cast Member at Disney World in Orlando Fl – she can most definitely help your family find the magic of a Disney Vacation!  Let Jenny take the hassle out of your next getaway – on land or at sea!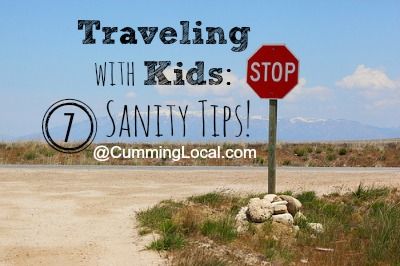 Traveling With Kids:  Sanity Tips
Traveling with your children can be a fantastic way to bond with them, show them the world, make memories to last a lifetime, and feed your family's sense of adventure. On the flip side, traveling with your children also means having to sit for a long time in a vehicle or an airplane and listening to "Are we there yet?" repeatedly.
Here are a few tips to keep you sane during this journey:
It's All about Music
– Music soothes the savage beast. And it works on kids too! Load your music players and car CD changers with music the whole family enjoys.
Listen to Books
– With the huge market of kid books out there, there is a tremendous number available as audio files. These stories last for hours and will keep your child entranced for some time.
It is Snack Time
– Food is fuel especially on a road trip or flight. Try to stay away from sugary snacks but provide healthy items like fruit and whole grain snacks. Freeze juice pouches and keep in a small cooler as they will thaw out in time for a refreshing snack break.
Create Car Games
– Stay away from the held kind of game, instead create the kind that use their imagination. These can include "I Spy with My Eye" or license plate games such as counting to see how many different states you can find, or try to make a sentence with the letters in a passing car's license plate.
Break out the Puzzle Books
– Puzzle books are great because they take the child's attention away amount of time in car or plane, and generally have big enough print to be able to read easily in a moving car. Try to avoid reading books, unless on a plane, the small print with the moving car could equal a sick child.
Plan Your Trip Wisely
– Try to leave as early as possible on a car trip, bring your child's favorite pillow and they'll sleep for the better portion of the trip. Also, get the kids involved in the vacation planning as well such as highlighting on a map where you will be traveling.
Make Frequent Stops
– This isn't really realistic when you're flying, but is a must option in the car. Take this extra time as it can make the trip more bearable for children.   Getting out stretching their legs and looking at the scenery is sometimes all they need to get them through to the next stop. Also, stopping at the state visitor's centers is a great way to learn fun fact about the state and the region. Pack a picnic and make an adventure out of it!
There are always times during a long trip where everybody gets a little antsy, even the adults. Try some of these tips on your next trip and everyone will arrive happier and less stressful.
Edited to Add:  If you happen to be headed to Disney World, check out Jenny's Magical Disney Tips.
Connect with Jenny of Our Cruise Planner: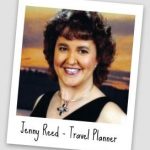 Email – Jenny@OurCruisePlanner.com
Online – www.OurCruisePlanner.com
Facebook – www.Facebook.com/OurCruisePlanner
Twitter – www.Twitter.com/TheTravelExpert
Phone – 678.947.5115

Photo Source:  D Sharon Pruitt