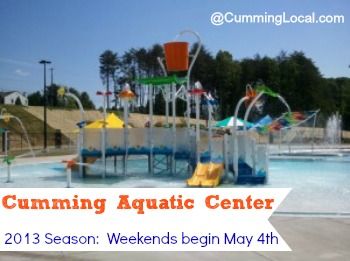 Update: 
T
he weekend seasonal opening has been postponed to the weekend of May 11-12 due to weather conditions.
Cumming Aquatic Center 2013 Season Opening
The City of Cumming has announced the Cumming Aquatic Center 2013 – which means summer is just around the corner!!  The Cumming Aquatic Center's Outdoor Leisure Pool & Water Park is almost ready for 2013 Visitors.   The following information was released from the Cumming Aquatic Center website:
Opening Dates:
Weekends Only – Beginning May 4th (Saturday & Sunday 1pm to 6m)
Daily – May 25th to August 7th
Hours:
Monday through Saturday –
Session 1:  10am to 2pm*
Session 2:  2:30pm to 6:30pm*
Sunday –
Session 1:  1pm to 6pm*
Session 2:  n/a
*VERY IMPORTANT: A separate admission is required for EACH session.  (Sorry, I don't make the rules I just share them – if I made the rules, it would be different!)
August 10th – September 1st
Open weekends only
Saturdays: 2 sessions (10:00 am – 2:00 pm) & (2:30 – 6:30 pm)
Sundays (1:00 – 6:00 pm)
Labor Day (Monday, September 2) – Last day of the season
One session only (1:00 – 6:00 pm)
Click here for Fall 2013 Information
2013 Rates:
Daily Admission –
Under 2:  FREE
2 – 17 years:  $4
18 – 59:  $5
60+:  $4
Individual & Family Passes are also available in 30 day, 90 day & annual increments.  Click here for more information.
*VERY IMPORTANT:  All guests are required to pay admission – whether swimming or not.  Again … I don't make the rules;).
More About the Cumming Aquatic Center:
On Monday, June 27, 2011, the doors of the Aquatic Center first opened.
Features of the new center include:
50 Meter Competition Pool
1 & 3 Meter Diving Boards
Bleachers Spectator Area
Concession Stand
25 Yard Instructional / Therapy Pool
Outdoor Leisure (Water Park) Pool
Poolside Cabanas
and Multipurpose Meeting Rooms
Some of the programs currently offered, include:
Water Exercise Programs – inquire with Cumming Aquatic for current schedule
Swim Lessons
Swim Teams
Infant Swimming Resource
Oh Baby! Fitness – programs for both pregnancy & mommy/child
CPR & Lifeguard Classes
Birthday Parties
and more!
The Cumming Aquatic Center
201 Aquatic Circle (off Pilgrim Mill Road)
Cumming, GA 30040
Phone: 770.781.1781
To learn more about the Cumming Aquatic Center, click here.