Christmas Tree Farms & Purchases in Forsyth County
Are you wondering where you can find the best Christmas tree in Forsyth County? Whether you want to cut one down yourself or just pick out a perfect one – we can help you out!
There are several locations for Christmas tree farms & purchases in Forsyth County that you can visit – everything from a real farm where you select & cut your own own tree to the local Home & Garden store where you don't!  You can take a fun holiday experience or even help a local high school with their fundraising efforts.
When picking a Christmas tree in Forsyth County, there's a little something for everyone!
Here's our round-up of places to find a Christmas tree this year: (Please note – we will be adding to this list as more information becomes available from other places in Forsyth)
Christmas Tree Farms in Forsyth County: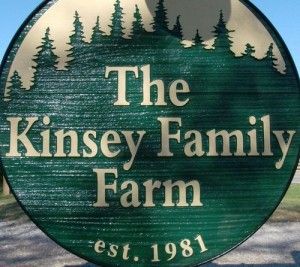 Kinsey Family Farm:  My family has been going here for several years – both in the fall and winter months.  It's a beautiful farm with a great staff & team!  If you want to have the full experience and a great farm holiday atmosphere, you need to go here! Kinsey Family Farm is family owned and operated. It's about 20 minutes North East of Cumming. You can sip on hot chocolate while roaming around their outdoor barn looking at Christmas trees, homemade wreaths, and garland that are made from their tree trimmings.  Roast marshmallows over the fire pit, take a hayride, feed the catfish, feed the goats, and shoot an apple gun.You have the option of cutting down your own tree on the farm or picking one out that's already been cut. This is a great place to go no matter your age and what you're looking for, they have it all! What my family loves about Kinsey Family Farm is when you make a purchase of a Christmas tree – you get a Kinsey Family Farm ornament.  Every year they make a new one, so start or continue your collection today!  Check out this guest post about a reader's visit to Kinsey Family Farm in 2011.
2013 Christmas Season opens Saturday, November 23rd.  Click here for hours & more information.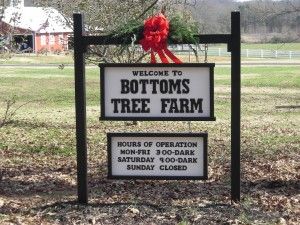 Bottoms Christmas Tree Farm: Here is another great Christmas Tree Farm located in Cumming, GA. With over 1,500 trees ready for the Christmas 2013 Season – there is a great collection of choose & cut trees!  They also offer a variety of homemade breads, jams & jellies, wreaths, ice cold drinks & more!  Check out this guest post about a reader's visit to Bottoms Christmas Tree Farm in 2011.
2013 Christmas Season opens Thanksgiving Week (Wednesday, Thursday, Friday & Saturday).  Click here for hours & more information.

Christmas Tree Purchases in Forsyth County:
Big John's:Big John's is a 60+ year old Atlanta tradition, family owned and operated. They serve the Atlanta metropolitan area with fresh Christmas trees, wreaths and roping, along with stands, ornaments and more!  There are three Forsyth County locations –  Suwanee, Cumming at Hwy 20 and 400, and Bethelview Rd. Opens Friday, November 22nd.  Click here for more information.
Pike Family Nursery: Our local Pike Family Nursery is located at: 6050 Bethelview Road. They're busy bringing in all of their beautiful Christmas décor to help you decorate inside or outside of your home. You can also get beautiful poinsettias and rosemary trees.
Lowes: Located off of Marketplace Blvd.
Home Depot: Located off of Marketplace Blvd.
Trees! Trees! Trees! from Tents! Tents! Tents!: They will be opening the Saturday day after Thanksgiving. You can find the most up to date info at their Facebook page. Mention this posting and receive $5.00 off a Christmas Tree purchased from Trees Trees Trees – located in the parking lot of Tents Tents Tents at 1860 Buford Highway (next to the PepBoys on Hwy 20). Opening Saturday November 30th.
What a wonderful Christmas season it is! Light up the tree, make memories, and enjoy the time with your family and friends!
 Photo Source – Latteda
Disclosure – we have provided a list of where to get your special Christmas tree with links and contact info. We give you the links and contact info for a reason. Please check with the company before heading out to them. We would hate for you to bundle your family just to find out they are not open yet. Enjoy the Christmas season!