The following is a guest post by Cumming Local Mom, Shelley.  She's sharing about her recent (and past) experience at Kinsey Family Farm.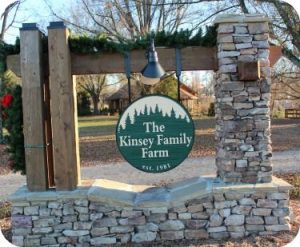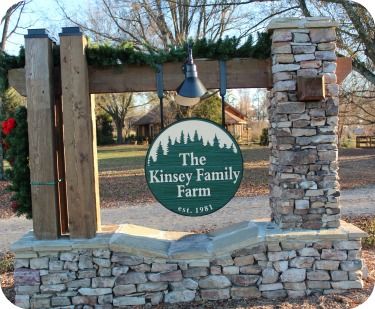 A Trip to Kinsey Family Farm in Forsyth County
Looking to start a new family holiday tradition?
I've got a great idea for you!   Have you visited the Kinsey Family Farm?   If not, this is a must go to and experience destination!   My family goes at least two times a year, once in the Fall for pumpkins and again after Thanksgiving for our Christmas tree.
Once you get off of Hwy 400, it's a scenic four mile drive to the farm.   You'll start to see row upon row of trees in all different shades of greens and varying textures.   You'll be greeted by their beautiful Kinsey Family Farm sign as you make your turn into the farm.   You'll come upon the pretty open red barn filled with that wonderful holiday smell of evergreen trees.   This place is stunning!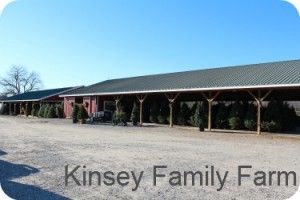 As you make your way into the open barn, stop by the counter to get a cup of hot apple cider, hot chocolate or a box of popcorn.   They have a beautifully decorated twenty foot plus Christmas tree for you and your family to have your picture taken in front of.   Inside the barn you'll see row after row of varying Evergreen trees, neatly hanging with tags on them.   You have the option of choosing one of these cut trees or take the FREE hayride through their property and they'll help you cut one down of your choosing!
As you make your way back to the barn, you'll smell and hear the crackling of the open fit pit.   For two dollars, you can purchase s'more kits complete with wet-naps to make your very own s'mores!  Yum!   By this point, you've probably picked or cut down your tree … need any homemade wreathes or gorgeous garland?   Yep, they have these as well, all made from trimmings from their tree farm and they are beautiful!   You can also get some homemade jams and jelly's … yum!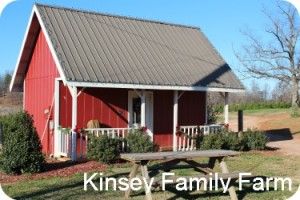 As you're checking out, you will be handed a Kinsey Family Farm ornament with the year printed on it for making a purchase.   Start making this one of your family holiday traditions and if you're like my family, you'll have started your own collection of the Kinsey Family Farm ornaments which vary from year to year….we might have 5 or 6 now, each having their own memory to go with it!
From our family to yours, Happy Holidays!
*note for this year's hours and pricing information, visit Kinsey Family Farm online.
Connect with Kinsey Family Farm:
7170 Jot-em Down Road
Gainesville, GA 30506 (Forsyth County)
Phone:  770.887.6028
Kinsey Family Farm Online |  Kinsey Family Farm on Facebook