Volunteer Opportunities in Forsyth County
We're getting lots of questions about finding local volunteer opportunities in Forsyth County and throughout Cumming.  With Thanksgiving just around the corner, it's a great reminder to help our community (now & throughout the year).  We started updating our list and then turned to Facebook for some help too.   Below, we've linked to volunteer pages of some recommended organizations.  This is just meant to serve as a starting point – definitely click on the links &/or call the organizations that you might have a passion for and see how you can get involved!
Here are some organizations to check out:
Abba House: They have both permanent/long-term volunteer opportunities, as well as opportunities to volunteer for one day or one project.
Bald Ridge Lodge: Their mission is to provide a safe haven and counseling in a therapeutic environment for boys ages 12-21 who are in need of protection, direction, and supervision. Donations from the community, whether they be in monetary form, food, or clothing, are always welcome.
Cumming Ministries & Thrift Store: They have many areas of ministry in need of volunteers from local churches and from the community. The current needs include the following: financial donations, drop off donations for the thrift store, donate time to work in the thrift store, skilled craftsmen to help with renovations, mentors for the residents, drivers to take men to work or doctor appointments, prayer for the ministry.
Family Haven: They need the help of community members like you to accomplish their mission.  Please view the list of volunteer opportunities here to find out how you can become involved today!
Food for Thought Project: They are looking for volunteers to make pickups or work in the kid's clubhouse. More details here.
Humane Society of Forsyth County: If you are passionate about helping our furry friends, we need you at the Humane Society of Forsyth County.
The Place of Forsyth County: Volunteers at The Place of Forsyth work together with staff to support our families and our Mission: The Place helps people in Forsyth County with emergency basic needs. We ask that all volunteers provide a minimum of three (3) hours of their time. Current volunteer needs include: Food Pantry (MarketPlace), Thrift Store, WorkForce Instructors & Mentors, Administrators, Garden
United Way of Forsyth County:  Volunteers are at the heart of our organization.  Plus, it's a great way to get involved in your community and see immediate results for your efforts. Here are a few places they could use help: Office Volunteer, Photographer, Stuff the Bus Committee, Gobble Wobble 5K/15K, Marketing, and Communication Volunteer.
March of Dimes: They are currently looking for financial support. More information can be found here.
Georgia Mountain Food Bank: Volunteers play a critical role in the success of Georgia Mountain Food Bank. Volunteers help in many ways: volunteer action center, food drives, outreach and administrative. (Please note: Kids are able to volunteer here as well)
Bearfoot Ranch: There are many opportunities for volunteers at Bearfoot Ranch: grooming and feeding horses, cleaning stalls, building, and fence repair, and helping with therapy lessons are just a few of the areas in need of volunteers.
Furkids Animal Hospital: Furkids is run mostly by volunteers, over 1000 strong! We welcome new supporters who are interested in helping our homeless animals. Volunteers are our lifeline and we have many volunteer options, including volunteer opportunities for children. Check out the opportunities they have here.
Meals By Grace: They have many ways you can serve. My family likes to sign up as a food support volunteer. They serve Forsyth County families every Sunday at Midway United Methodist Church from 1 to about 4 pm. (On the 1st Sunday of every month, its Kid's in the Kitchen day. Children under 12 can sign up to cook in the kitchen. )
Just One Africa: Everyone has a role to play, and there are many ways to make a difference. How will you help to transform their worlds? Join us on a journey that will create the foundation for a brighter future for children in Kenya and bring clean, safe water to those in need. We believe it just might change your whole world as well. Click here to view the options for volunteering with Just One Africa.
Looking for more?  Be sure to check out Forsyth County Community Connection and our Facebook Post for reader recommendations.
Date Specific Events:
We know this list will grow as the holidays get closer – we'll continue to add to it as events are submitted. If you have an event to add, click here.
Give Serve Love with Browns Bridge Church: More information on Be Rich by clicking here.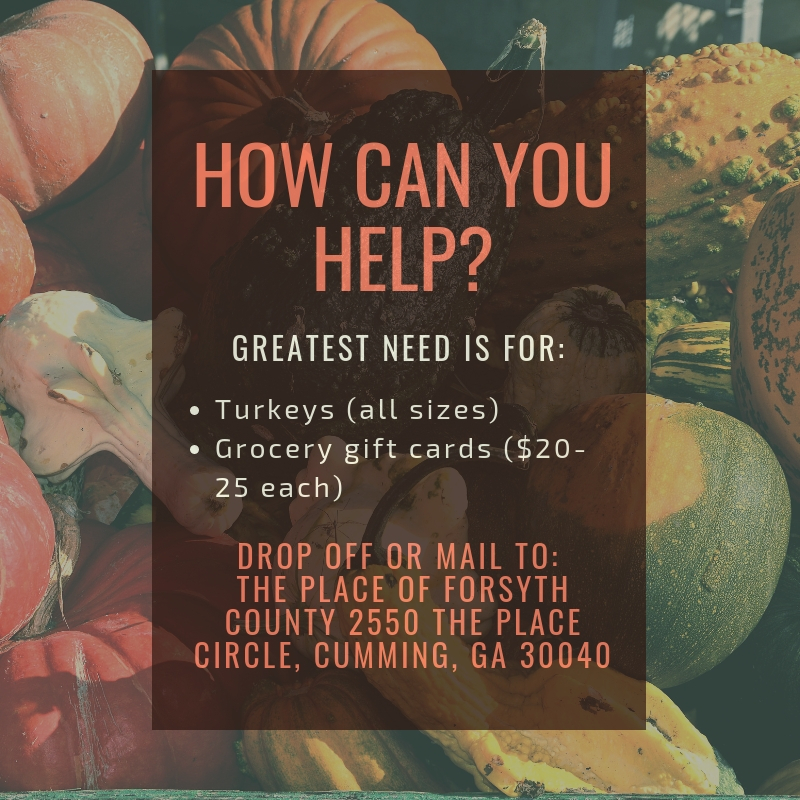 Donate a turkey (or gift card) for families in need:  Items can be dropped off or mailed to The Place of Forsyth County by Saturday, November 10th
Holiday House at The Place of Forsyth County: December 13th & 14th-17th & 18th. For more information, follow this link.
Looking to Donate Used Items?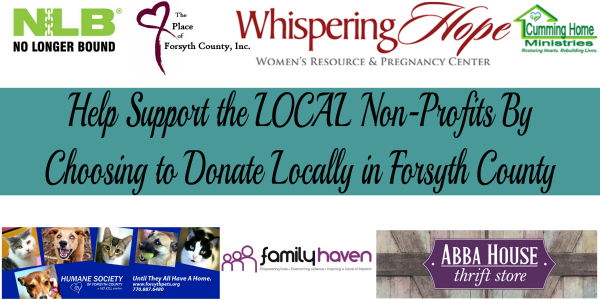 Check out our recent round-up of the local non-profits you can donate to. 
People make this a great community to live in!!