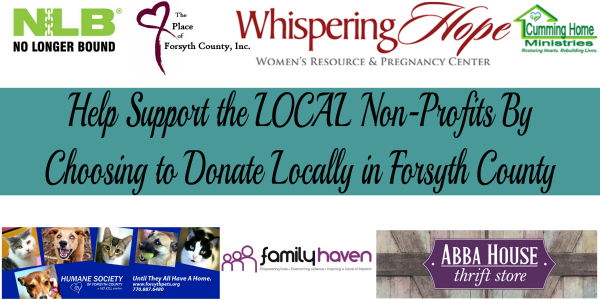 Help to Support the Local Non-Profits in Forsyth County by Donating Locally!
Did you know that we have MANY great Non-Profits right here in Forsyth County that you can donate items to? Yes – it's true. All of these Non-Profits have a different purposes for their thrift stores. But the sales always goes back to the Non-Profit Ministries.
As you are cleaning out and purging, would you consider giving to one of these local Non-Profits Ministries? Many of them will pick up as well. Below I've listed out each one with their hours and links to their social media as well as their websites for more information.
Here's the list in alphabetical:

Location: 243 Stowers Road E Dawsonville, GA 30534
Hours: Monday, Wednesday, Friday & Saturday 9am–5:30pm Tues & Thurs 10am–7pm
Phone: 678-208-2000
At Abba House, their ministries are focused on "helping broken women be made whole" by helping them break free from addiction and abuse. Our Christ-centered ministry allows women to first reconcile to God, and then to their families.
Connect with Abba House Online: Facebook | Website

Location: 429 Canton Road, Cumming, GA 30040
Hours: Monday through Saturday 10am – 5:30pm
Phone:  678-456-5544
Cumming Home Ministries provides transitional housing, life-skills coaching, spiritual mentoring and a safe, Christian environment for men in Metro Atlanta who need to make a fresh start in their lives.
Connect with Cumming Home Ministries: Facebook | Website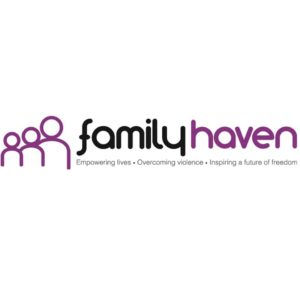 Location: 598 Veterans Memorial Blvd., Cumming, GA 30040
Hours: 10am-6pm Monday-Friday & 10am-5pm Saturday
Phone: 770-844-0842
Forsyth County Family Haven is an advocate for victims and families of domestic violence providing shelter, programs and community education to end the cycle of violence. Forsyth County Family Haven was incorporated in 1989 for the purpose of providing safe temporary shelter, individual crisis support and referral services for victims of violence.
Connect with Family Haven: Facebook | Website

Location: 168 Tri County Plaza, Cumming GA 30040
Hours: Monday – Saturday 10am-4pm
Phone: 770-886-5806
Founded in 1975, the Humane Society of Forsyth County, Georgia (HSFC) is dedicated to preventing cruelty to, relieving the suffering of, and providing humane treatment for animals.  All the animals in our program are safe and well-cared for, while they wait to find them their forever homes. They stand by the fact that they are one of a few NO-KILL shelters in this area.
Connect with Humane Society of Forsyth County: Website | Facebook |Instagram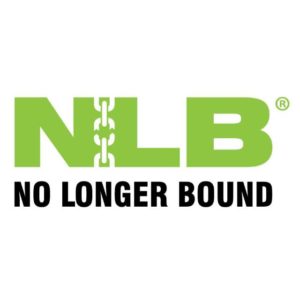 Location: 315 Dahlonega Street, Cumming
Hours: Monday-Saturday 9am-6pm
Phone: (678) 679-1172
No Longer Bound provides broken and willing individuals with a place of escape from the enslavement of addiction. They do this by creating a residential refuge for addicted individuals to detoxify from the chemicals, chaos, and catastrophe caused by their dependency.
No Longer Bound's vision is basically to rescue addicts, regenerate men & reconcile families. 
Connect with No Longer Bound: Facebook | Website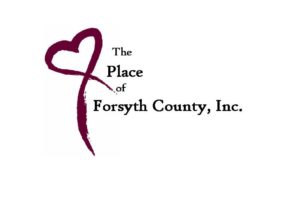 Location: 2550 The Place Circle Cumming, GA 30040
Hours: Monday-Saturday 9am-4pm
Phone: 770.887.1098
The Place of Forsyth County is serving the community with financial emergency assistance, clothing, food and many additional support services. In August 2015, they started a workforce development initiative in conjunction with several local agencies to help the under employed and unemployed prepare for and secure jobs. We also embraced an 8 year old service, Focus on Forsyth, which helps needy households through referrals from schools and senior center. Through our services to the community we are changing lives in Forsyth County Georgia.
Connect with The Place of Forsyth County: Facebook | Website

Location: 580 Atlanta Rd, Suite 208, Cumming, GA 30040
Hours: Tuesday-Saturday 10am-6pm
Phone: 770-886-0089
Acknowledging that every human life begins at conception and is worthy of protection, Whispering Hope offers compassion, hope and help for anyone vulnerable to abortion by presenting life-affirming alternatives and support and by sharing the Gospel of Jesus Christ. Bargain Boutique's motto is "savings babies one bargain at a time!"
Connect with Bargain Boutique: Facebook | Website

Location: 5185 Browns Bridge Road, Cumming, GA 30040
Hours: Monday-Saturday 10am-6pm
Phone: 678.455.7437
To provide individuals with disabilities work experience, thereby enabling them to discover and develop their unique capabilities and potential, and help them achieve the highest degree of independence and the best quality of life possible.
Connect with The Pier Foundation Online: Facebook | Website