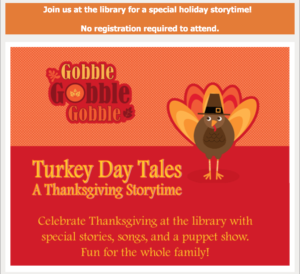 Turkey Day Tales: A Thanksgiving Storytime at the Forsyth County Libraries
The Forsyth County Libraries are celebrating Thanksgiving with special stories, songs, and a puppet show. If you are in town, this would be a fun activity for the kiddos! Come join the fun at the Thanksgiving storytime!
Below are the story times at the different Forsyth County libraries:
Cumming Library
Monday, November 21 11:15am (Sharon Forks program)
Tuesday, November 22 at 10:15 a.m., 11:15 a.m., and 3:15 p.m.
Hampton Park Library
Wednesday, November 23 at 11:15 a.m. and 1:15 p.m.
Post Road Library
Monday, November 21 at 10:15 and 11:15 a.m.
Sharon Forks Library 
Please note, due to construction the Sharon Forks. Their program will be held at the Cumming Library, located at 585 Dahlonega Road, Cumming, GA 30040. Join your Sharon Forks librarians there for this special program.
If you are still looking for activities to do during Thanksgiving week, visit our round-up here.