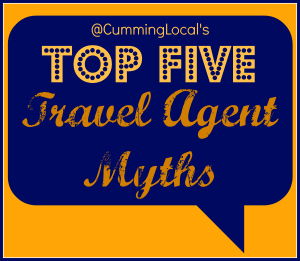 Have you used a travel agent to book your vacation? I'm going to be very honest and tell you that I have not before. A few weeks ago, my husband and I started planning our 10 year anniversary trip. We decided to go back to the place we honeymooned at 10 years ago. I started shopping online. It was A LOT of work trying to find what we wanted. I ended up booking our trip through an online company. But you know what they say – "Hindsight is 20/20."
The booking experience was very impersonal. I just shopped for the best flight, hotel room, and price. Then I typed in my personal information, payment information, and clicked book trip. That's it. It took a little bit before I received a confirmation email which made me a bit nervous.
Now that it's booked, I wish I would have gone through a travel agent. It would have helped me to book much easier, saved me stress, and probably saved money. And using a travel agent would have given me a person to call with any questions.
Yesterday, I was able to spend some time speaking with my friend, Jenny Reed who has been a travel agent/planner for over 15 years. She and I talked through the myths about travel agents. I felt these were too good not to share.
If you are thinking about summer, fall, or spring vacations – I recommend you give Jenny a call (678.947.5115) or email (Jenny@OurCruisePlanner) to have her help you with booking your vacation. Lesson learned for me. I will definitely use her next time!
Myth 1: Travel agents are expensive.
Truth: Travel agents are usually compensated by the hotel, cruise line or tour provider they are booking for, which means you probably don't have to pay them a penny. Ask up front if the agent charges a planning fee.  Agents also have insider access to deals not advertised and a large buying power since they are searching and purchasing travel year round, and have strong relationships with each travel brand, which is a benefit to you. In reality, it can be less expensive to use a travel agent.
Myth 2: I have the Internet, so why would I need a travel agent?
Truth: The Internet is a great tool for researching travel, but when you have 25 different windows open and you can't figure out which ones to close, you are bound to get stressed. Travel agents can help break through the overwhelming clutter of so many options, offer tried-and-true recommendations based on their personal travel experience and help narrow down choices to create a customized vacation experience based on your desires.  Also, it is their personalized customer service after the sale that often is the key to using an agent as well.
Myth 3: A travel agent will cut me out of the research and planning process.
Truth: It's all about teamwork. Working with a travel agent allows you to be as involved as you would like to be in the travel planning process. Vacations are investments, so just like you would want to hire a professional to manage a cash investment, you should consider using a professional travel agent to help with your vacation investment. Find a travel agent that has a robust website with information about destinations to make you an even more educated, savvy traveler.
Myth 4: Travel agents only recommend products that will earn them the highest commission.
Truth: While some travel agents might have a favorite cruise line or destination, their recommendation is based off of personal experience and what you are wanting for your vacation. Many travel agents take familiarization trips, so they are knowledgeable about the products they are offering and can give you insider tips to make your vacation even more special.
Myth 5: I can book a vacation myself and save time.
Truth: Don't lie to yourself…you are insanely busy. Why spend four weeks planning a four-day vacation all on your own when a travel agent has the resources, knowledge and often personal experience to help you and in a timely manner?    Travel agents actually save you time so all you have to do is worry about is what to pack.
Jenny Reed – Our Cruise Planner
Jenny Reed has been traveling the world since she was a little girl. She turned her love for travel into her own business over 14 years ago. From cruises to escorted tours to customized travel plans, Jenny has helped her friends, family and clients in the Cumming area and nationwide take the vacations of their dreams. She shares her passion for travel with her customers and does not charge a service planning fee. For Jenny, the best part of her job is creating travel plans so people can escape their busy lives even if it's just for a little while!
Connect with Jenny:
Email – Jenny@OurCruisePlanner (dot) com
Website | Facebook  | Twitter
Phone – 678.947.5115