We're excited to continue our "Tools for 2013" Series where we're sharing some of our favorite tips and tricks on a variety of different topics.  To check out all other posts in this series, click here. 
Tools for 2013:  Ways to Earn  –  Are You Earning Swagbucks?
Want to know a secret?  I rarely "google" or "bing" anything, but I always "swagbucks it".   Do you?
I've been earning Swagbucks for about 4 years now.  What does that mean?  Simply put, I use Swagbucks as my search engine and I earn earn free stuff just for doing so!  Do I sound like a used car salesperson already?  Just read a little further.  I know a lot of you use Swagbucks too and earn good money!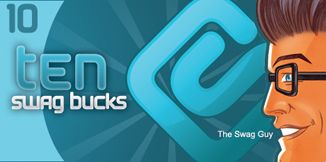 Swagbucks is one of the most popular and recognized loyalty programs where you can earn free stuff including 1,000′s of products for doing the things you do everyday: Searching the web (powered by Google and Ask.com) and answering polls and surveys, printing coupons – even shopping!
All you have to do is register to get started.  There's no credit card required!
If you do an average of 5 searches a day, you could possibly earn around $15 a month just from doing what you already do. Toss in a few polls, and the occasional purchase, and you'll be earning enough for a tank of gas or trip to the grocery (with all your great coupons of course!) in no time!
How's it working for me?
Last year I "purchased" a Kindle Fire.  And when I say purchase I mean – for free!!!  I also snagged two Wii Games for Christmas gifts for the kids this year.  I cash all my Swagbucks in for $5 Amazon Gift Cards.  I then use those $5 Amazon Gift Cards & bank them in my Amazon account until I can purchase something I want.  In this case?  A Kindle Fire!!
Does it sound like a gimmick?
Yes.  It does.  But I've been using it for about 4 years now and so far, I've been pleased!
Want to know a little more?
Check out this article we posted last year.  It explains a little more about the program in depth.  Or feel free to ask questions below in the comment.  I'm happy to answer!
Want to try it for yourself?
Of course you do!  It's 100% free, no strings attached, free prizes, no shipping charges, no membership fee's.  And you'll be earning for something you'll be doing anyways – searching online!  It's the perfect time to get started … so register now.
Affiliate Links Included