January is National Thyroid Awareness Month
As the month of January begins and millions of Americans are awaiting what 2018 will bring. The American Thyroid Organization and over 20 million people worldwide are raising awareness for thyroid health and a variety of thyroid diseases. January is thyroid awareness month, and for a large percent of the population, it offers the hope for a substantial amount of research and donation funds. While it may be a small organ in the front of the neck, the thyroid is vital for producing the hormones needed to survive, and when it doesn't function properly, victims are subject to a variety of symptoms, such as tiredness, weight gain or loss, mood swings, tremor, sleep problems, and coldness. It can also cause diseases that affect the way that someone goes about his or her daily life. The most common of these diseases include an under or overactive thyroid, but thyroid cancer can also develop.
While there is no way to prevent thyroid disease, it can be treated with medicine and pills. Unfortunately though, there is no cure, so those affected will live with it for their entire lives; however, with the proper treatment, they are likely to live normally. Furthermore, people have the opportunity to be tested for these conditions if they experience any of their symptoms. The procedure is performed by a GP and involves blood work, but it can be worth it in the future. Being tested can result in an earlier diagnosis, which in turn, can prevent even more problems down the road.
Out of the 20 million people affected by thyroid diseases, the majority of them are women. In fact, women and girls are five to eight times more likely to develop this illness than men. Moreover, children can also develop thyroid problems, and around 1 to every 4,000 babies are born with an under active thyroid yearly. Thankfully however, much like adults, these infants undergo blood spot tests five days after their birth.
With these facts in mind, we must think about how we can make a difference this month. By donating to foundations like the American Thyroid Organization, we ca provide victims a sense of hope that there will be more research, medical advances, and a cure in the future. We can help be a voice for millions of men and women worldwide and encourage them that we are on their side. We can educate about this vital organ, and we can band together to stop the worsening of thyroid diseases in the future. The power of one donation and voice is strong, but the power of a group is much, much stronger. On behalf of those living with this condition, I ask you to be a light these next four weeks. I ask you to give kindly, educate abundantly, and speak loudly.
---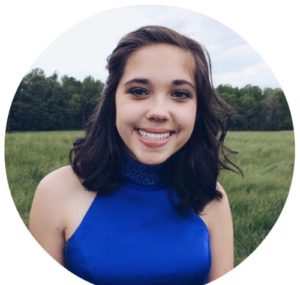 Morgan Champion is an ambitious North Forsyth High School senior who believes in the power of serving others, reaching for her dreams, and having a positive attitude—no matter her circumstances. Besides writing for "Cumming Local," Morgan enjoys volunteering at her church, at the Forsyth County Peer Court, and at various clubs and organizations throughout her school.
To read more about Morgan and our other contributing writers, click here.