Sabine started swimming at SwimKids of Georgia before she could walk. At 14 months she was taught to close her mouth and open her eyes underwater, look for a hand target and flip on her back to float. She started kicking and walking at the same time about 2 weeks after her first lesson with Coach Nadyne.
"Bini" was comfortable in the water and enjoyed her time at swim lessons. Nadyne expertly taught Sabine to utilize the swim-float-swim method and the little girl had equal parts caution and confidence in and around the pool.
After several ear infections, Sabine had to take a break for a couple of weeks to have surgery. That was followed by a trip to South Africa which meant swimming lessons would be put on hold for two months.
While on vacation, Sabine enjoyed the warm summer weather on the South African coastline and spent most of her time on the beach building sandcastles and eating ice-cream. Being the youngest of her cousins and family members her adventurous spirit prompted her to follow their lead. While enjoying a picnic next to the Blind River in Dana Bay (pictured at the bottom), Sabine, her brother, and cousin would run and jump into the shallow end of the river where it mouthed into the Indian Ocean. This was fun and the kids laughed as they each made a giant splash when sitting in the water.   The laughter was however very soon replaced with a panicked scream. There were only two kids visible and they were both frantically looking around for Bini. "Help" yelled Miguel. "Bini, Bini where are you, yelled her brother Julian. Sabine had ventured into the deep end of the river about 12 feet from where the grown-ups were sitting. Anyone that has ever been separated from their kid can tell you that seconds feel like hours. From under the dark water a smiling little faced popped up on her back floating, "I swimming" said Sabine. She flipped on her tummy and kicked to grab the hands of her cousin. "Again", said Bini, "Let's jump again".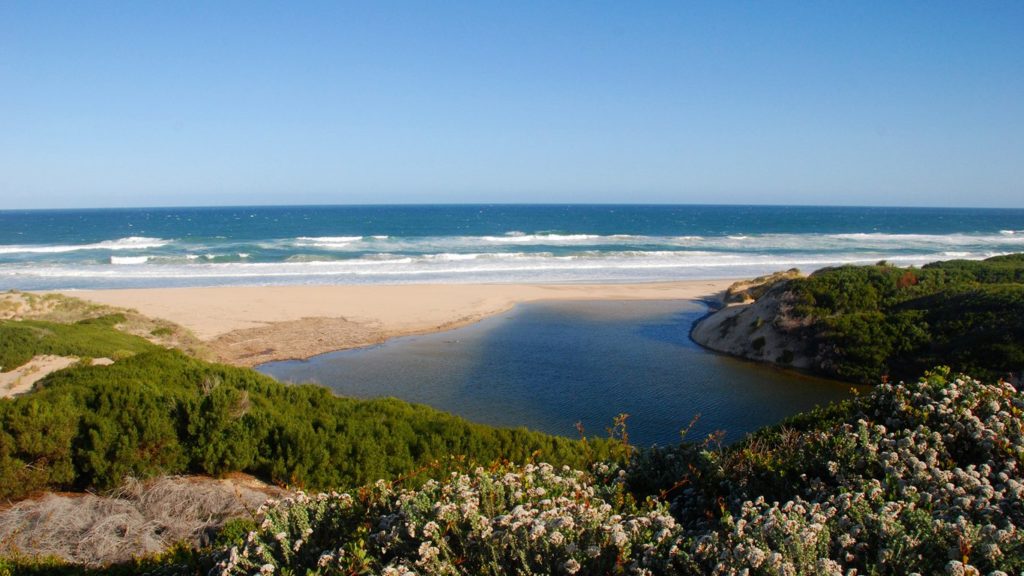 Sabine was 23 months old at the time and SwimKids of Georgia saved her life. Had it not been for the valuable life skill she had learned at 14 months this story could have been a very different tale with a very grim ending.
On behalf of the Meyer family, we would like to thank Nadyne and SwimKids of Georgia for making our kids safe around water. This is one of the biggest, most precious gifts I have been able to give my two children and urge all parents to invest in their children to learn how to float and swim-float-swim from a very early age.
---
Learn More About Nadyne Siegel-Brown (Owner) at SwimKids of Georgia:

Nadyne has been teaching aquatic survival since 1987, dedicating her life to saving children from drowning. Her focus is on teaching infants, toddlers, and young children proper survival skills and educating parents and caregivers on the layers of aquatic protection. Her passion is contagious, and most of her young students develop a love for swimming, which translates to a lifelong sport for health and well-being.
A message from Nadyne: Growing up in Central Florida, water has always been a huge part of my life. In 1986 I was introduced to aquatic self-rescue for infants and toddlers when I enrolled my 18-month-old in such a program. I was a water baby and that's what I wanted for my son. Watching Jacob's aquatic transformation inspired me to become an instructor. Searching for a gentler and more comprehensive approach to teaching swimming, Aquatic Specialist of Atlanta and then SwimKids of Georgia was born. Today, I am continuously honing my skills by learning new and innovative ways of teaching swimming from other instructors in the aquatics field. My young students never cease to amaze me with their aquatic abilities and their love for the water.
Over the years, I have received calls and letters from parents whose children have experienced an aquatic accident. Whether at a pool, lake, or hot tub, parents are incredibly relieved to find that their children have saved themselves. "The lessons really work!" It also gives me great pleasure to see so many of my students move on to competitive swimming both on summer and year-round teams. The satisfaction gained from working with these children is the reward for all my efforts, and I look forward to waking up and going to work every day. I want to thank you for your interest in SwimKids of Georgia home of Infant Aquatic and I hope that you will take the steps to give your child the edge that could possibly save his/her life.
Connect Online with SwimKids of Georgia: Website | Facebook | Twitter | Instagram

"The world is covered with water and I can't believe how many people can't swim. I want to change that. That's how I change the world – one swimmer at a time." – Nadyne Siegel-Brown