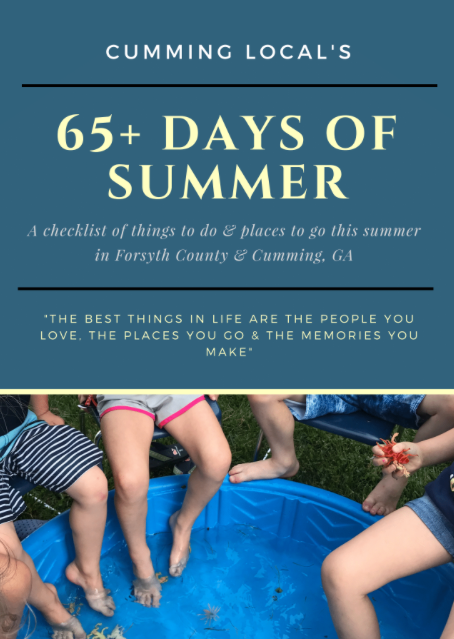 65+ Days of Summer Things to Do in Forsyth County 
I love that picture of the kids playing in the pool! It just reminds me of summer. Well – It's officially SUMMER BREAK here in Forsyth County! And if you are like me, then you are going to be looking for summer things to do in Forsyth County!
When it comes to summer break – what are you most excited about? I'm most excited about two things: not getting up at 5:30am & not sitting in carline every day!
Last summer, I started thinking about our summer and putting together a rough plan for us. As I was doing that I thought to myself – I bet other people could benefit from my planning! Long story made short – that is how the "65+ Days of Summer" e-book was created.
I began making a bucket list for everything we could do in Forsyth County this summer. Then I organized it into seven categories…
Indoor Fun (Story Times, Jumpy Places, Indoor Entertainment, Theatre & Crafting Places)
Outdoor Fun (Pools, Water Fun, Parks, Playgrounds, Farms, Farmer Markets & Fishing Spots)
Create Something (Building or Art Locations)
Movie Time (Free Movies & Cheap Movies)
Sweet & Treats (Ice Cream Shops, Bakeries & Tea Rooms)
Fun At Home (Ideas Of Things To Do Around Your House)
Summer Events (Organized In Order By Date)
Date Night Ideas
With some graphic design, it became a 13-page downloadable and printable e-book in a checklist format. And I decided to give this away for FREE as a BIG THANK YOU to all my readers and website sponsors! The Cumming Local Facebook page just hit over 13,300 followers. Also, the newsletter subscription has doubled as has the website traffic. And I have partnered with some really fabulous local businesses.
Without further ado…I give you the 65+ Days of Summer: A checklist of things to do & places to go this summer in Forsyth County & Cumming, GA.
For other summer things to do in Forsyth County, check out the following links:
I hope you have a GREAT summer!