Summer Jobs in Forsyth County for Teenagers
The following post is written by Christina LaPlaca, a high school student and part of the Honors Mentorship Program at Forsyth Central. Today she is sharing some ideas of summer jobs for teenagers in Forsyth County.
As summer approaches and school begins to make its final stretch towards the finish line, we as teenagers begin to long for more freedom: freedom from classes, responsibilities, and worries. What most of us don't realize, however, is that everything always comes with a price, and this independence is no different. The price at this point in time, of course, is actual money, and for many of us, therein lies the problem. By now, most of us have been able to scrape by through the use of our parents' money, allowing us to buy lunch and snacks at school, or maybe even go out with our friends from time to time. Now that we have been graced with privileges like a driver's license and a car (and we have more time on our hands), I think many of us have come to the conclusion that it's time to become our own source of income. Maybe we should get our own jobs to pay for our needs and wants.
Of course, there are still some of us who are too stubborn to want to even think about getting off of the couches this summer. For those of us who still need an extra push to get out into the work force, here is a list of opportunities and ideas to pick and choose from!
Fast Food:
One of the most go-to jobs for teenagers nowadays are those in the fast food industry. Not only are these jobs readily available for teenagers (especially around this time of year), but you can also get some free food or discounts from time to time, which always sounds like a good idea. There are, however, certain places with more welcoming environments for teenagers than others. Chick Fil-A, for one, is always up for new, dedicated recruits. And while I may be a little biased here, considering the fact that my first job was in this establishment, this really is a wonderful place to work. On top of being Christ driven, they also pursue the long-lasting effect on their employees that encourages leadership, responsibility, good character, and relationships. Add all of this with a side of fries, and your teenager will be gaining experiences that will help them with future job opportunities, as well as allow them to have the resources for a great summer!
On top of Chick Fil-a, places like Dairy Queen and Zaxby's are also great restaurants to make their first step into the world of adulthood. Here, your teenager will not only be able to learn the basic mechanics of the industry, but they will also take away necessary communication skills that will allow them to prosper in the years to come.
Lifeguarding:
Another seasonal job opportunity for teenagers is lifeguarding. After all, who doesn't like to spend their time by the pool? While this job does entail much more than relaxing their days throughout the summer, it will help your teenagers gain responsibility and allow them to take on leadership roles, all while getting a paycheck! Opportunities like this are available through AMS (Aquatic Management Specialists) and the Cumming Aquatic Center.
Grocery Stores:
Another possibility for a summer job is one within particular grocery stores. Whether it be Ingles, Kroger, or Publix, each pride themselves on the high standard to which they hold their employees, building on their character in the process. Because of this, you can rest assured that, should your child work here, they will continue to gain professional attributes, even though they may only be working in a store.
Boutiques:
In almost every shopping center you enter, whether it be the Collection at Forsyth, Vickery Village, or the Outlet Mall –  there is always a new local boutique around every corner. Because most of us are amazed by the stores because we mainly want to spend money there, we often miss the fact that with options continually opening up, job openings tend follow. And if your child is lacking basic skills in the realm of, say, hanging and folding (which I hear are necessary to adult life), this may be the perfect solution! Let's also not forget the inevitable discounts on amazing clothes!
With this plethora of opportunity just behind our backyard, there should be no issue in finding a job that will specifically suit your teenager's need for this summer's activities. Hopefully this list can help point you and your teenager in the right direction for summer!
TIP: We have a post on Facebook where we have shared current job opportunities for teenagers. You can see that conversation, by clicking here. Also, Forsyth County Schools has a listing of job opportunities specifically available to high school students in Forsyth County and they are listed by employment category. Visit the FCS Job Board for more information. 
---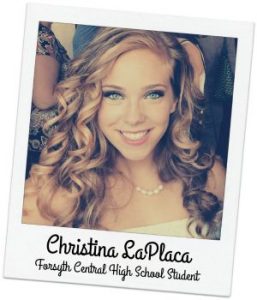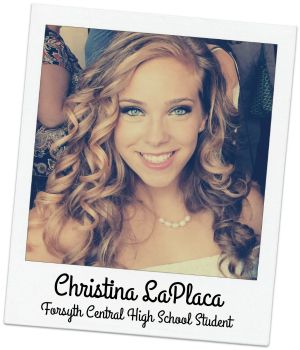 Christina LaPlaca is part of the Honors Mentorship Program at Forsyth Central High School. She recently shared some facts about herself. You can read that article here.
To learn more about Christina and our other contributing writers, click here.