"I want preparing for the big trip to be as relaxing as the trip itself." ~  Jenny Reed of Our Cruise Planner
In my book, vacations are supposed to be fun.  All aspects of it – before, during & after.  Don't you hate how busy and difficult it can be to get everything ready just to go on your adventure?  There's extra time at work making sure everything gets done before your last day, extra time at home getting all the bills paid, making arrangements for pets, mail & trash, and then all the laundry & packing.
There's so much that has to be done, that only you can do.  But have you ever considered delegating the one aspect of your planning that can be left to a professional?   A travel expert.  I've enjoyed having Jenny Reed of Our Cruise Planner as a Cumming Local Contributor.  Not only has she brought us some great advice about local travel, but through the Our Cruise Planner Facebook Page she's keeping us up to date on specials available, tips and advice on planning.
Contrary to the name, Jenny plans all types of travel, but cruising  is her specialty!  And with over 40 personal cruises under her belt, it's safe to say that she can use those first-hand experiences to find her clients the perfect cruise vacation for them.
So, what does Jenny love most?  She says, "One of my favorite services is helping you find the best deals that make sense for your trip. I sort through all the specials out there and pass along only those that are great for you."
When you take a vacation somewhere, especially for the first time, it's natural that you'll have lots of questions.  Jenny says, "Most importantly, the relationship doesn't end once your travel is booked. I'll answer any questions before, during and after your trip."  And what about those unexpected events?  Maybe a missed connecting flight or a hurricane dampens the plans of your cruise?  "If anything unexpected happens on your trip, there's no waiting on hold for hours. You get a direct line to me and I can help quickly sort out a solution."
That is most definitely customer service I'd be looking!  And the best part?  There's actually no service fees when booking your travel through Our Cruise Planner! A great deal, one-on-one customer service (when things are going right &  wrong), an expert in the field, and an experienced traveler.
And what about the other types of expertise Jenny can offer?  Aside from being a Norwegian Cruise Line Specialist, a Princess Cruises Commodore, and a Costa Cruises Certified Agent,  Jenny is also a graduate of the College of Disney Knowledge & Certified Las Vegas Specialist.
Are you ready to plan your next vacation?
If you're considering a cruise, now is the perfect time!  Today, Monday October 17th, kicks off National Cruise Week.  Start your search on the Our Cruise Planner website & you'll find many featured cruises, starting as low as $469.  You'll also find lots of resources such as Tips for First Time Cruisers, Packing Lists, information on Group Travel & Travel Insurance too.  Or you can simply give Jenny a call or contact her (see information below), let her know what you're interested in & she'll get started on finding your perfect vacation!
During National Cruise Week, you'll find onboard credits, reduced deposits, coupon booklets & more.  Now is the perfect time to start your Spring or Summer 2012 search!  Or maybe even consider a last minute adventure over the upcoming holidays.  Either way, Jenny is ready to help.
She actually sums it up like this, "Working with a travel planner is more than just finding a great deal, it is about trusting someone who is an expert in their field to help you plan your hard-earned vacation so that all you have to worry about it what to pack!"
Stay Connected with Jenny: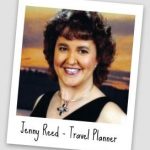 Email – Jenny@OurCruisePlanner.com
Online – www.OurCruisePlanner.com
Facebook – www.Facebook.com/OurCruisePlanner
Twitter – www.Twitter.com/TheTravelExpert
Phone – 678.947.5115