Simply Seafood
Today's guest post comes from a new contributing writer,  Julie Brennan. She is sharing her love of delicious food with us! This recipe can be easily adapted to be gluten and dairy free. I hope you enjoy!
There's something about the ocean that makes me a happier person – the water, the smell, the sounds, colors and rhythm of the waves. I just love every part of it! Well, except stepping on seaweed, going in when the water is cold, and swimming with barracudas. I do try to avoid those things.
Though we may not live close to the sea, we do have the ability to buy wonderful seafood at local markets. Numerous restaurants and markets alike often offer a wide variety of seafood from the deep flown in fresh, sometimes daily.
Chef Tony Casino was kind enough to share his expertise with me during a recent getaway to visit my parents in Vieques, Puerto Rico. Originally from Chicago, Chef Tony finds fish "fun to cook." His repertoire includes tuna, cod, mahi-mahi, scallops, and salmon.
A delicious appetizer I tasted was Plantain Crusted Scallops. The recipe is easy, the taste marvelous.
Plantain Crusted Sea Scallops
3-4 large fresh scallops
1/2 cup finely chopped green plantain
1 egg, beaten
1/2 cup flour (use an all-purpose gluten free flour to make this dish gluten free)
Place the chopped plantain, egg and flour in three separate bowls. After thoroughly cleaning the scallops, garnish each piece with a sprinkle of salt and pepper. Pass each scallop through the flour, then the egg and finally through the plantain.
In a frying pan, melt 2 tablespoons of butter and sear each scallop for 3 to 4 minutes or until golden brown. Serve on a platter garnished with your favorite sauce.
Another tasteful recipe that Chef Tony shared can be served with your favorite piece of fish, whether grilled or fried, steamed or raw. I love this Coconut-Ginger Rice as a delightful side.
Coconut-Ginger Rice
1 cup cold, cooked rice
1/4 cup coconut milk
1/4 teaspoon chopped garlic
1/4 teaspoon chopped ginger
Salt & Pepper to taste
In a hot pan, place 1 tablespoon of vegetable oil and heat. Add the rice and enough coconut milk to wet the rice. Add the garlic and ginger. Toss and cook until the liquid is absorbed.
A great sauce to try with your favorite piece of fish is Mango Salsa.
Mango Salsa
Mango, 1
Red pepper, 1/2
Red onion, 1/2
Chopped cilantro, 2 Tbs.
Orange zest, 2 Tbs.
Salt/pepper
Dice a green and a ripe mango to make 1 cup (1/2 of each works well). Add red pepper and red onion, finely chopped. Add chopped cilantro and the zest of an orange. Add salt and pepper to taste.

The next time you are looking for a little something different to serve your family or dinner guests, try serving an entrée with seafood. You can often get recipes at the market where you purchased the fish. With a little imagination and the right ingredients, you'll have an island treat in your own kitchen.
Pin this recipe: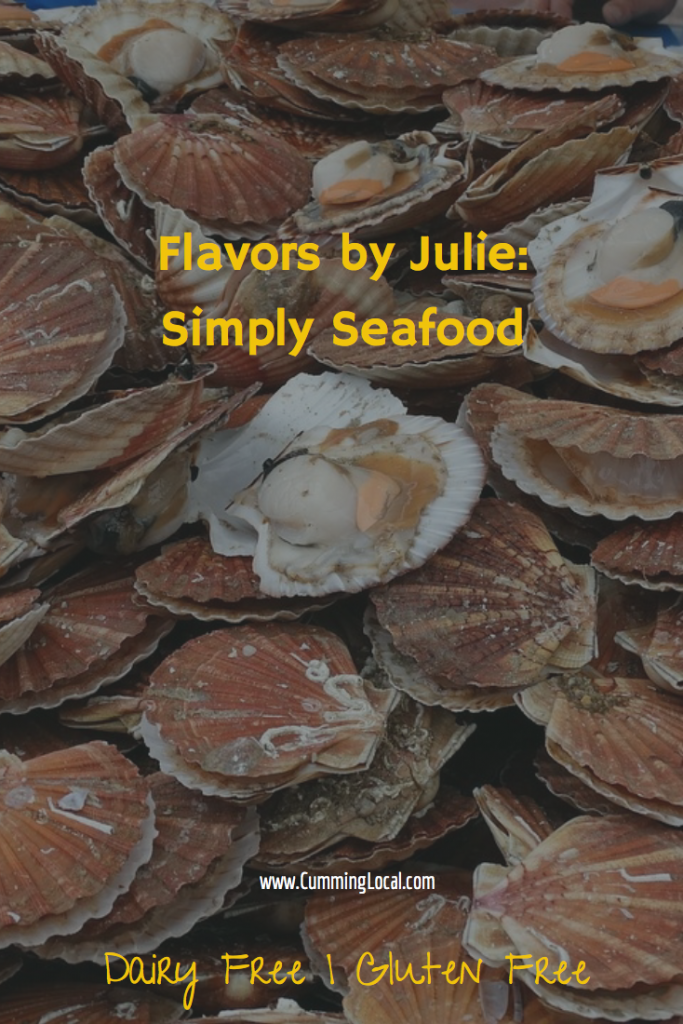 ---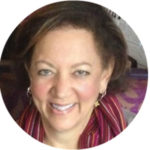 Julie Brennan has been publishing My Forsyth magazine since 2010. She volunteers as part of the Kick It Up and REACH programs for MentorMe North Georgia, South Forsyth High School Culinary School Program, and the Forsyth County Schools College and Career Development Program. Julie was born and raised in the island of Vieques, Puerto Rico. We like to refer to her as the Forsyth Foodie full of local flavor!
Follow Along with Forsyth Foodie: Facebook | Instagram 
To learn more about Julie and other contributing writers, click here.