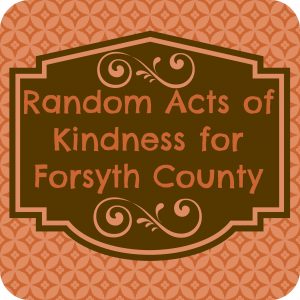 Random Acts of Kindness for Forsyth County – Week Two
Last week we kicked off our 2nd year of "Kindness in Forsyth" – spreading random (or semi-random in some cases) acts of kindness throughout Forsyth.  This was the 2nd year we've highlighted it.  Are you joining us?  We'd love to hear about it!!  Spread some kindness and love throughout Forsyth … we could all use a little unexpected happiness in our lives, right?
Each week, we'll put together a new list of some ideas.  Use these or come up with your own and help spread some kindness each day.   
Ideas for Week Two:  
1.  Write a note or draw a picture and mail to surprise someone.  It will be fun for someone to receive it unexpectedly!
2.  Surprise someone at a vending machine – leave enough money with a small note for the next person to buy a drink or snack.
3.  With sidewalk chalk, draw a cheerful picture or not on an un-expecting neighbor's driveway.  (Maybe don't pick the mean, grumpy neighbor just in case they don't appreciate the gesture – boo!).
4.  Think of a Veteran or someone actively serving that you can bless this week – maybe a hand written thank you note, a gift card, or a meal.
5.  Surprise a construction worker with a thermos of hot chocolate on a cold morning or bottled water in the afternoon.
6.  Check out our "Volunteer Opportunities in Forsyth County" list – call one of these organizations and say YES to one of their opportunities / needs.
7.  Bake a Treat & surprise someone.
Spread the love:
Feel free to tweet or share on Facebook with the hashtag #KindnessInForsyth or #ForsythCo so we can follow along!
Will you join us?
Make sure you are subscribed to our newsletter so you don't miss any of these updates! Click here to sign up to get our updates.