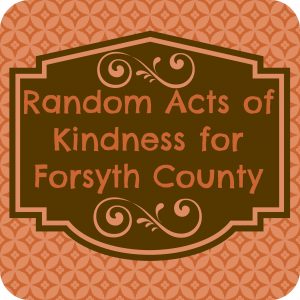 Random Acts of Kindness for Forsyth County – Week One
We kicked off this series last year and excited to bring it back – another round of some new "acts of kindness" as we lead up to Thanksgiving!  Spread some kindness and love throughout Forsyth … we could all use a little unexpected happiness in our lives, right?
Each week, we'll put together of list of some ideas.  Use these or come up with your own and help spread some kindness each day.   
Ideas for Week One:  
1.  Surprise a co-worker (or maybe your child's teacher) with their favorite hot beverage.
2.  Roll the Trash Can in for a neighbor after weekly pickup.
3.  Mail a Thank You Note to the Forsyth County Sheriff's Office, Fire Department or Cumming Police Department.
4.  Take a Thank You Note to the Librarian – maybe after story time one day this week.
5.  Instead of "venting", BRAG about one of your favorite local stores on Facebook or Twitter – make sure your friends know where to shop in Cumming!
6.  Return someone's shopping cart for them at the grocery store.
7.  Surprise a friend with a phone call (not a Facebook message, text or tweet) or go one step further & take them out to lunch!
Spread the love:
Feel free to tweet or share on Facebook with the hashtag #KindnessInForsyth or #ForsythCo so we can follow along!
Will you join us?
Make sure you are subscribed to our newsletter so you don't miss any of these updates! Click here to sign up to get our updates.