All Things Prom in Forsyth County
The following post is written by Christina LaPlaca, a high school student and part of the Honors Mentorship Program at Forsyth Central.
Since we were little girls, we have always dreamed of elegant dresses and handsome princes at the dance; for most of us, it was all that kept us from leaping out of our seats in our fifth grade math class. Once we got to high school, however, we began to notice the tangible lack of actual princes and elegant balls; instead we were exposed to more math, and yes, the dreaded chemistry course; nothing really seemed all that glamorous. What we all eventually came to realize, though, was that there was a way in which all of our dreams and fantasies could come to fruition, even in such a seemingly bland time in our lives: we had Prom to look forward to. Finally, there was a time set aside just for us and our peers to have fun and dance the night away; finally, we could just run with our imagination, even if it was in a more practical way than a royal ball. The breathtaking possibilities that come with prom cross everybody's mind, leaving us all sitting on the edge of our seats with anticipation. This is especially true for juniors like me who haven't been able to focus on anything else all year long. We are all ready for Prom to be our own dream come true.
Still, we have to find some way to plan this evening out; no matter how hard we wish, things like this don't simply fall into place. This is why Cumming Local has put together a list of tips and tricks that will help all of us survive the days leading up to the infamous Prom.
Top three dress styles for 2017:
An issue most young ladies face this prom season is deciding on which style fits their personality the most, while still wowing everyone they see… a combination much easier described than found. With all of the styles, colors, materials, lengths and sizes… I know I personally feel like I'm constantly drowning in an ocean of opportunity every time I look through a catalog. Thank goodness for modern-day trends lighting my path to the perfect dress, otherwise I'd be lost in this madness!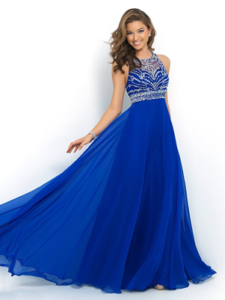 This magnificent, high neck, beaded and sleeveless chiffon (A-line) dress is certainly one of the more elegant ensembles available. While it's more modest, its long and flowy nature paired with the jeweled top is sure to capture the attention of everyone at the dance while you have the time of your life!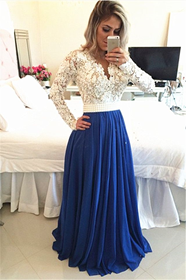 Princess V-neck, long sleeve chiffon dresses (A-line) like this are taking the market by storm! Both conservative and stunning, this dress epitomizes the combination of class and modern style!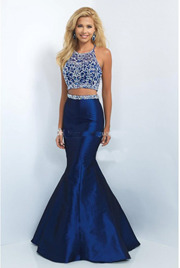 This modern, two-piece mermaid dress is captivating the attention of teenage girls across the country! It's both a stunning and a flattering piece that will help ensure your night to be a great success.
Places to get dresses:
There is, of course, a mild bump in the road that these ladies must also face: how can they possibly find the perfect dress, and where can they even look? They can find amazing deals online without any issue, but most of the time, they always seem too good to be true; even then, the size never seems to quite fit them as well as they had envisioned. Even if they choose to go down the electronic route, they then find ourselves opting out of the sacred prom shopping experience! And yes, I promise it's a real, fun, activity to have with your friends, family, and of course over-protective dads.
Well, fear no longer! Below are lists of all of the prime shops and stops, located in or around the Cumming area, that are perfect for buying your perfect prom dress and having fun at the same time!
Cinderella's Wardrobe Rental (located at 1465 Dahlonega Hwy Suite 4, Cumming, GA 30040)
Bravura Bridal and Prom (located at The Collection at Forsyth, 410 Peachtree Pkwy #376, Cumming, GA 30041)
Girli Girl Prom and Pageant (located at 74 E Main St NE, Buford, GA 30518)
Treasures Formal and Bridal (located at 7300 North Point Pkwy, Alpharetta, GA 30022)
RSVP Prom and Pageant (located at 111 W Crogan St, Lawrenceville, GA 30046)
Places to get tuxes:
And, of course, the men mustn't be ignored! While this particular time of year may just seem like a season filled with high expectations paired with a semi-expensive dinner, it too can be filled with laughter and excitement! From dancing, to good food, to simply hanging out with your friends, prom can be a night of splendor, even for the guys.
One issue remains at large, however; where can they rent tuxes for this special night? Don't they have enough to worry about already? When will they even find time to research for a place in which they can browse?
I guess it's good that we've compiled a list for the young men to peruse as well!
Jim's Formal Wear (located in Marietta at 1977 S Cobb Dr #290, Marietta, GA 30060)
Tuxedo Warehouse (located at 3345 Hutchinson Rd A, Cumming, GA 30040)
JCPenney (located at North Point Mall and the Mall of Georgia)
Places to eat:
Whether you've got a date or are flying solo, most of the time, prom-bound teenagers create a larger group of their own. They meet up to take pictures, carpool, and, undeniably, eat a substantial amount of food together before the big night. It's, of course, common knowledge that before the night truly takes off, both dresses and tuxes alike must be a little snug from dinner. After all, they'll be dancing like there's be no tomorrow, so stuffing themselves beforehand is acceptable… right?
At any rate, a nice, tasty dinner is a must. But, because there are so many delectable options around every corner of every street, it may seem difficult to even find a place worthy of our attention. Even if the options are narrowed down, there will most certainly be confrontations regarding the final decision; what will be the best choice for everyone? Well the good news is that no matter where you go, it's sure to be a restaurant worthy of your imminent satisfaction. From Osaka and Kani House to Longhorn and Texas Roadhouse, the possibilities are endless! And even if you or your group isn't up for indulging in Japanese restaurants or family steak houses, Italian will never fail! From the classier stores, like Provinos, to a simple pizza joint like Sydney's Pizza, there's a fit for everyone.
Even though this is only one night of your teenager's life, it's a time in which they can truly let go and have fun with their friends. Hopefully, through this little tips, tricks and guidelines, we have helped turn this prom into even more of an entertaining, magical night.
(Photo Source for Dress Photos – Dress 1 | Dress 2 | Dress 3)
---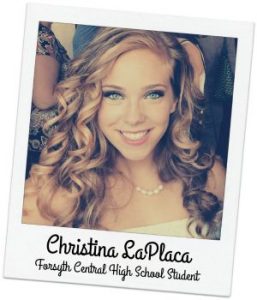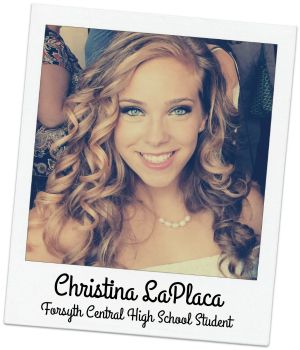 Christina LaPlaca is part of the Honors Mentorship Program at Forsyth Central High School. She recently shared some facts about herself. You can read that article here.
To learn more about Christina and our other contributing writers, click here