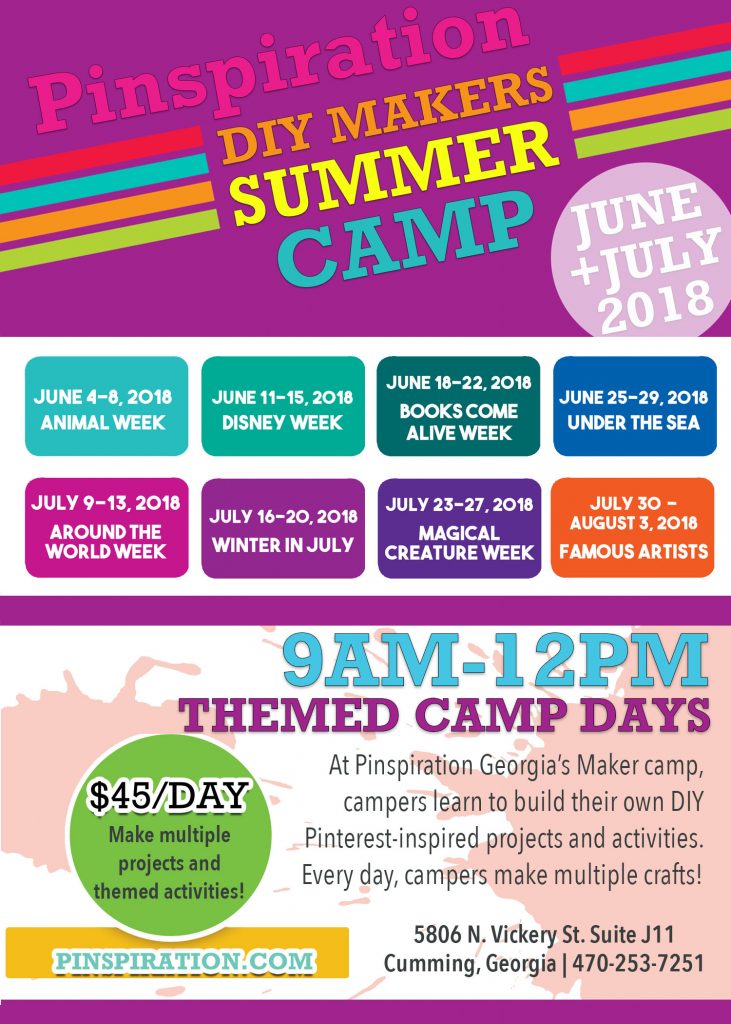 Pinspiration DIY Makers Summer Camp 2018
Join Pinspiration in June and July 2018 at Pinspiration Georgia, located at Vickery Village. During DIY Makers Summer Camp, they will keep the kids nice and busy while you work, shop and get stuff done! Every day of camp has a different theme and matching DIY Pinterest craft and activities. This camp is perfect for ages 5-12.
Sign up here.
Did you know that Pinspiration has been voted as the Best Day Camp? It has!  Makers Gonna Make is a slogan you will hear tossed around in Pinspiration and it's the perfect description. If your child loves to craft, then DIY Maker Summer Camp is the place for them.
At camp, boy and girl campers will learn to build their own Pinspiration-Inspired project. 
They don't have one particular project each day but, rather, let the kids choose from a variety of fun do-it-yourself theme (Pinterest-inspired) options. The main project choice is something more substantial, such as the project in the "
Kids Makers
" section of the website.  In addition, the campers will create several smaller projects each day. Wood projects such as signs and art crate totes are good main project examples.
The DIY Makers Summer Camp is wildly popular, award-winning and child-focused. They tend to keep class sizes small so we get a ton accomplished and the kids have a lot of fun.  We have options that appeal to both boys and girls from about age 5-12 years.  Each day of camp is $45, regardless of number of days enrolled.
Registration Details:
1. To register for camp, follow this link: DIY Makers Summer Camp.
2. Choose dates you would like to attend camp.
3. Complete emergency waiver by downloading here or fill out on first day of camp.
What Others Say About Pinspiration:
"Definitely a fun place to go! The staff is extremely helpful and the store itself is a pinterest paradise! My granddaughter and I had a blast splatter painting our canvas. I will certainly be back!" 
"Pinspiration was very welcoming. They have so much to offer for all ages. We will most definitely go back. Thanks to the whole staff."
"We had a fun and relaxing time creating today. Tiffany and the staff were especially helpful and encouraging so that my daughter came away with a beautiful project as a result. Would love to do again!"
More Information on Pinspiration:


Pinspiration's hip studio allows customers access to a variety of high-quality art supplies and tools.  The Pinspiration staff provide the tools, materials and a clean, inviting and inspiring place to put it all together.  Customers can create their own idea on the spot or they can choose from an array of ever-changing monthly project menus based on the most popular "pinned" social media projects and current craft trends.  What's more, Pinspiration has it's own wine/beer bar and party room!  Pinspiration is a world-class venue for planning truly memorable and entertaining events.
Connect Online: Website | Facebook | Instagram
Phone: 470-253-7251
Location: 5806 N. Vickery St., Cumming, GA 30040