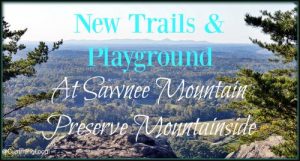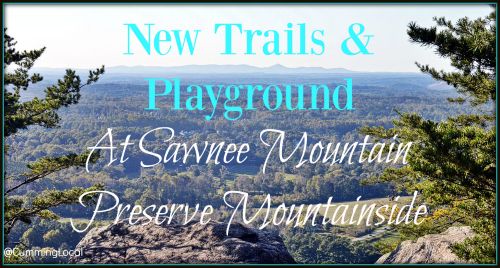 Have you taken a hike up the new trails at Sawnee Mountain Preserve – Mountainside? Personally we haven't. But we hope to real soon! Just need to find a time when we can do it without our littles. We've heard it's a tough hike and better to go without kids under 6 years old.
The New Trails
There are 4 trail tracks you can take up the mountain. They range from 0.6 miles to 3.2 miles. Click here to check out the map.
The Playground
I (Rachael) went to the Mountainside Playground for a playdate a few weeks ago. The playground is pretty amazing! It has slides, poles to slide down, a rock wall to climb, a bridge to cross, and more. My children's favorite part was the cave to play in. You can climb down into the cave from the top of playground but also from the ground. Inside you find "spiders," "lizards," and cave drawings.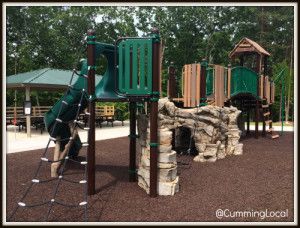 This playground also offers several swings, a playground for the younger kids, and clean bathrooms. The ground of the playground looks like mulch but it's a solid ground. It has a bounce to it. My daughter fell a few times running around and she didn't get hurt so that's a win!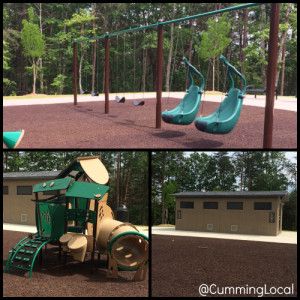 A few tips for you:
The ground is a dark reddish color so it is hot. And it puts off some heat too. The playground is not covered.
Pack water! You kids will be thirsty after playing here.
Make sure to have sunscreen handy since it's not a covered playground.
There is a covered picnic area that you can sit to watch your kids play. Also, that's a great place to share a snack before you head home. 🙂
More about Sawnee Mountain Preserve:
Located just 40 miles north of Atlanta in Cumming, Georgia, Sawnee Mountain Preserve provides visitors with 963 acres of scenic passive space, hiking trails and an interactive Visitor Center. Sawnee Mountain visibly links to the summit of the Blue Ridge Mountain Range, as well as the rich history of the woodland culture of North Georgia's Native American inhabitants. The mountain is named after a local Cherokee Native American, Sawnee.  Now, after having survived the passage of time, natural disasters, searches for gold, timber clearing, and urban development, Sawnee Mountain is the landmark host to The Sawnee Mountain Preserve & Visitor Center.
Connect with Sawnee Mountain Preserve Online: Website | Facebook